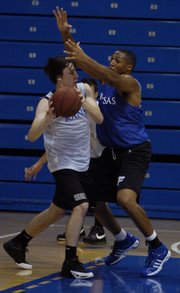 Being the child of a professional athlete doesn't always translate into being just talented.
But with the genes of two athletes, it's no wonder that Jackson Jeffcoat has the athletic ability to be a two-sport star in basketball and football.
"My dad (Jim Jeffcoat) was a big-time player and he helps me out with a lot of stuff," said Jackson, a Plano (Texas) West Senior High junior-to-be, whose basketball team defeated Deer Creek, 44-17, Saturday in Allen Fieldhouse at Bill Self's team camp. "Also, my mom was really athletic. She did track and tennis in college at Arizona. So both sides I get the genes from. And my dad jokes around that I got most of my genes from my mom."
Jim Jeffcoat was a defensive end in the NFL and was a member of the Dallas Cowboys' back-to-back Super Bowl teams in 1992 and '93.
Although Rivals.com doesn't have official rankings for the class of 2010 yet, at 6-5, 215 pounds, Jackson is predicted to be a top-five football recruit - possibly the No. 1 defensive end - and a top-15 basketball prospect.
So it's no surprise that Jeffcoat is drawing interest from Big 12 Conference football powerhouses Texas, Texas A&M; and Oklahoma.
But much like some current NFL players, Jeffcoat said he wanted to continue being a two-sport athlete at the collegiate level.
"Julius Peppers went to North Carolina and he played basketball there," Jeffcoat said. "He's a defensive end for the Carolina Panthers. But it just helps on the footwork a lot. Then with football, the strength just helps you in basketball.
"But I can't drop the shoulder or anything (in basketball). You've got to play right. You have to play it a little more conservative than in football."
With the type of maturity and leadership he exudes - especially with being just a sophomore - it wouldn't be a stretch to see Jeffcoat handling two sports on top of college classes.
"With Jackson coming in and leading with Tyler Melville and Mark Damiani (both seniors-to-be) it's just tremendous right now," Plano West basketball coach Anthony Morgan said. "We're in a tough city, as you know about South Oak Cliff with Darrell Arthur coming out here and our big competition this year will be Duncanville, who's in it every year. The Metroplex is loaded with a lot of talent, so I'm just fortunate to come out and coach a guy like Jackson."
Jeffcoat has a twin sister, Jacqueline - also considered a top basketball prospect at Plano West - who he could lean on at the next level.
"Someone's going to get her, as far as the basketball arena," Morgan said of Jacqueline. "She's as big as (Jackson) and strong and she does a lot on the court."
Though Morgan enjoys Jeffcoat's presence in the low blocks, he said the son of the former Dallas Cowboy had a brighter future on the gridiron.
"He has the build and size to be a really good defensive end or outside linebacker," Morgan said. "He's quick - I think he runs a 4.3, 40. For as big as he is, he just really moves. Then on the court, he's just athletic and strong and he plays like Charles Barkley."
Copyright 2018 The Lawrence Journal-World. All rights reserved. This material may not be published, broadcast, rewritten or redistributed. We strive to uphold our values for every story published.