Photo Gallery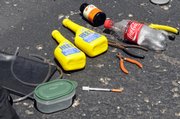 Jayhawk Motel Incident
Lawrence police arrested two people in connection with two stolen vehicles and one on an out-of-county warrant Friday.
Police were called to Crown Automotive, 3400 Iowa, at 10:45 a.m. Friday regarding a stolen red Chevrolet pickup truck.
Dale Backs, general manager of Crown Automotive, said salesmen were rearranging vehicles in the lot when the crime occurred. A new Chevrolet worth $30,000 was unlocked with keys in the ignition, Backs said.
"They come running across the parking lot jumped in and drove off," Backs said. "You don't think things like that would happen in Lawrence but they do."
Officers located the truck near a business in the 2400 block of Iowa. A Lawrence police officer observed one of the suspects in a separate truck parked near the scene. The officer attempted to talk to the individual but the two men in the truck drove around to the back of the building and then fled on foot.
Kansas University public safety officers arrested one suspect, a 23-year-old Topeka man, near Clinton Place Apartments. Lawrence police officers discovered the second truck abandoned behind the business in the 2400 block of Iowa was stolen from Wabaunsee County.
After about an hour of investigation, Lawrence police located the second suspect, a 33-year-old Lawrence transient, at a residence in the 2400 block of Melrose.
Following up on that investigation, Lawrence police arrested a 42-year-old Topeka man wanted on a warrant from Coffey County at the Jayhawk Motel, 1004 N. Third St. Police said they found materials used to make drugs at the scene. Those items included a syringe, tubing, pliers, propane and a bleach bottle. The Douglas County Sheriff's Office is assisting the Lawrence Police Department with this ongoing investigation.
Police spokeswoman Kim Murphree said further details wouldn't be available until Monday.
Copyright 2018 The Lawrence Journal-World. All rights reserved. This material may not be published, broadcast, rewritten or redistributed. We strive to uphold our values for every story published.