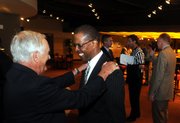 Notable award winners
¢ Gale Sayers, Lamar Hunt Lifetime Achievement Award
¢ Brandon Rush, Co-CollegiateMale Athlete of the Year Award
¢ Lew Perkins, Citation for Amateur Sports Excellence Award
Kansas City, Mo. — Gale Sayers sat at a table Thursday afternoon in the Sprint Center's Founder's Room, reminiscing about one of the most memorable athletic years in the history of Kansas University.
He looked sharp, sporting a black suit with silver pinstripes. He spoke softly, with several hints of passion for his alma mater, which won the Orange Bowl and the national championship in basketball in the same academic year.
"When they said, 'Who was going to win?' it was, well, North Carolina, they have too much speed," said Sayers, who was at Sprint Center to accept the Lamar Hunt Lifetime Achievement award at the Kansas City Sports Commission's P.R.O.P.S. (Party Recognizing Outstanding People of Sports) ceremony. "Then Memphis, they have too much quickness. Hey - we had as much speed and quickness as anyone in that tournament. It was a great ballgame."
Sayers, a KU running back from 1962-1964 and one of the most prolific NFL backs of all-time for the Chicago Bears, seemed equally as impressed with the Jayhawks' 24-21 victory over Virginia Tech in the Orange Bowl. Though Sayers said sustaining the level of gridiron success as last year's 12-1 team would be difficult, he thought it was doable.
"They have a good number of players coming back," Sayers said. "But it will be tough because when you play Texas, when you play Oklahoma, you know you're going to be playing some great football players.
"Again, I think we can win some of those ballgames. A couple of years ago (2004), we should have beat Texas, but they took the game away from us. But I just think that we're getting the caliber of players that can compete with anyone in the country and we showed that at the Orange Bowl."
The recent addition of the $31 million Anderson Family Football Complex, which includes a new weight room, locker room, media rooms and two practice fields, would be vital for KU to sustain that success, Sayers said.
"There's too many programs around the country that have good basketball teams and good football teams," he said. "Why can't we do that? We have one of the most beautiful campuses in the country. Basketball has always been good here. All we have to do is give some more funding to the (football) program, where they can go out and recruit. (KU athletic director) Lew (Perkins) has done a great job of building facilities, no question about it. We need that. Our facilities now will match probably 10 of the 12 teams in the Big 12. When recruits come to KU, they see what we're doing."
Sayers, who currently resides in Wakarusa, Ind., said he has visited Lawrence five or six times per year for KU football and basketball games.
When asked if he thought players today remembered him, he said, "I doubt it. I've been out of sports for 40 years now."
Too humble a response? Likely, considering Sayers is regarded as one of the best open-field runners ever. If not for a knee injury ending the Hall-of-Famer's career in 1970, his 4,956 rushing yards and 39 touchdowns undoubtedly would be higher.
How about if Sayers played in today's game - would his numbers be inflated?
There wasn't a doubt in the Kansas Comet's mind.
"The hash marks (in the '60s-'70s) were about seven yards from the sidelines," Sayers explained. "Now, they're right in the middle of the field, so there's no short side. (When) teams ran to the short side, the defense would slant to the wide side and it'd be tough to run to the wide side. If backs today had those hash marks like that, I don't know how many yards they would get, but not a whole lot. If I had the hash marks the way they have them today, I'd gain 20,000 yards. I guarantee you."
¢ Other Jayhawks Honored: Former KU guard/forward Brandon Rush received the Co-Collegiate Male Athlete of the Year award Thursday, sharing the honor with former Missouri running back Tony Temple.
Perkins rounded out the Jayhawks' honors with the the CASEY (Citation for Amateur Sports Excellence) award.
Before the ceremony, Perkins spoke about the status of KU coach Bill Self's new contract.
"Bill and I have pretty much agreed in principle," Perkins said. "Now we turn it over to the lawyers and who knows how long that's going to be. Bill's going to be here for a long time. It's just a matter of getting the paperwork done."
Copyright 2018 The Lawrence Journal-World. All rights reserved. This material may not be published, broadcast, rewritten or redistributed. We strive to uphold our values for every story published.