Photo Gallery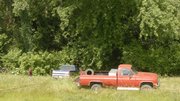 Stolen truck recovered from woods
Douglas County Sheriff's officers are currently investigating an abandoned truck near the Kansas River levee in North Lawrence.
The truck is in a wooded area along the stretch of the river that goes north past Burcham Park. No other information was available at this time.
Copyright 2018 The Lawrence Journal-World. All rights reserved. This material may not be published, broadcast, rewritten or redistributed. We strive to uphold our values for every story published.