Photo Gallery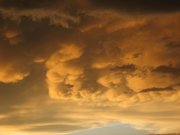 Thursday night's storm: reader-submitted photos
Douglas County escaped tornadoes that caused some damage in nearby areas Thursday night.
Lawrence and Douglas County experienced heavy rainfall and lightning, which caused power outages and a minor fire.
"Basically for us, we were lucky that it only ended up being heavy rainfall," said Jennifer Schack, 6News meteorologist.
Schack said the storm dumped 1.17 inches of rain in Lawrence; the measurement was recorded about 8:40 p.m.
"I had no reports of hail in the city and no wind damage reports," she said.
During the severe weather, more than 630 Westar Energy customers in Douglas County were without power. By 11 p.m., fewer than 100 customers remained without power.
Lawrence-Douglas County Fire & Medical also responded to a minor fire about 8:40 p.m. near 27th and Missouri streets. The fire was caused by an arcing power line on a tree.
Schack said a tornado was reported in Shawnee County between 6 p.m. and 6:30 p.m. A tornado was also spotted near Emporia that prompted a warning in Osage County. At that time, "it was looking like it could have been threatening for Douglas County, but it ended up not," Schack said.
A tornado also touched down twice near Linwood just before 8 p.m. Chuck Magaha, director of emergency management for Leavenworth County, said a "very small tornado" caused tree and power line damage.
Southern Douglas County remains under a flash flood watch until this afternoon.
Copyright 2018 The Lawrence Journal-World. All rights reserved. This material may not be published, broadcast, rewritten or redistributed. We strive to uphold our values for every story published.