Photo Gallery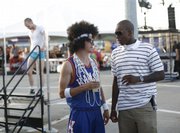 Basketball Boogie
Kansas City, Kan. — Kansas University basketball coach Bill Self shook hundreds of hands and, yes, even danced with fans at his "Basketball Boogie" on Saturday night at Kansas Speedway.
Self, many of his current players, former players and assistant coaches, athletic-department members and 1,000 Jayhawk supporters celebrated well into the night on the two-month anniversary of the Jayhawks' national title victory over Memphis.
"It's hard to beat meeting the president, but this is pretty cool," Self said, the music of Sawyer Brown blaring in the background. "Everybody is having a good time while we're raising some awareness and hopefully some money."
All proceeds, including money raised from live and silent auctions, were to benefit Self's Assists Foundation.
"We have a blast coming to these things," said KU sophomore-to-be Cole Aldrich, who, like the rest of his teammates, signed autographs and posed for photos with fans. "One of the best things about KU is the support we get. We're happy to be out here giving something back, helping support a good cause."
The center from Bloomington, Minn., was eager for Disco Dick and the Mirror Balls to hit the stage.
"I may have to show a little something. I have a little dance," Aldrich said. "'Late Night' was a little show of my dancing which was fun. Tonight is a disco theme. I'll bring a little of the old disco dancing back."
Recent KU graduate Russell Robinson had a big smile on his face as he mingled with fans.
"The Boogie is great. I'm ready to see who can dance and who can't," the Bronx, N.Y., native said. "I'm not much of a dancer, but ready to get out there and see what I can do."
Former KU guard Nick Bradford, who played last season in France, attended, as did a batch of former KU players, including Mark Ewing, Jeff Gueldner, Greg Gurley, Keith Langford, Patrick Richey, Billy Thomas and Wayne Simien. Former KU coach Ted Owens also was on hand.
"It's great to be back here, great to be in this atmosphere after winning the championship," said Bradford, who played at KU from 1997 to 2001.
"I'm so proud of the guys and coach Self. I fought for it (national title) all four of my years and couldn't get it done, but it feels like I won the championship, too. I feel like they are my young boys. I watched them and grew with them, trained with them (in summers). It's great to see them win."
Here are some tidbits gathered walking around and bumping into Jayhawks on the Speedway infield:
¢ Bradford, who roomed with Boston Celtic standout Paul Pierce two years at KU, bristled at Lakers' coach Phil Jackson's implication Pierce faked a knee injury in Game One.
"You know how Phil Jackson is : he's the king of quotes. I'll let him do that," Bradford said. "Paul was definitely wanting to get back out there (after receiving treatment in locker room after being carried off the court). Sometimes it's painful and takes a couple of seconds to get back on your feet. Paul came back in the game and proved everybody wrong."
Bradford rates Pierce the best player he has played with or against.
"Facing him two years at practice was a pleasure for me every day. He's an offensive threat from anywhere on the court," Bradford said. "It's been a long time coming for Paul in Boston. It's great to see him in the finals. And it'll be great to see him go home to L.A. and get to play there, too."
Pierce is a native of Inglewood, Calif.
¢ KU guard Sherron Collins, who had arthroscopic left knee surgery on April 21, has started working out.
"It's been six weeks," Collins said. "I'm taking it slow right now, not doing too much, no contact things. I'm a little ahead of schedule. We're taking it slow right now, taking as much time as we need for everything to chill out."
Collins said he was not startled at Mario Chalmers' recent comments that he likely will remain in the NBA Draft.
"We are behind Mario all the way. We won a national championship with him," Collins said. "He's a great player. Of course any decision he makes we're fine with it."
¢ Collins playfully grabbed a Sunflower Broadband microphone and started interviewing Robinson. He specifically asked about the Jayhawks' recent trip to the Walter Reed Army Medical Center in Washington, D.C.
"I can't put that in words. It was humbling, motivational, a great experience meeting the soldiers. I enjoyed every moment of it," Robinson told Collins.
Asked about the White House trip, Robinson said: "I went in kind of skeptical of George Bush. I'm kind of into the gas prices. After meeting him, I really respect the guy now. He is a good guy, gave a nice speech off the top of his head. He really touched a lot of guys on the team."
Of the White House, Aldrich said: "That was a memorable moment of our lives. When we are 80 years old we will remember going to the White House, standing in the Oval Office and hearing the president of the United States talk to us."
¢ New Jayhawk guard Tyrone Appleton of Midland (Texas) College, who arrived in town Thursday for the first session of summer school, said he has had fun getting used to his surroundings. His roommate is Travis Releford, an incoming freshman guard from Bishop Miege in Roeland Park.
"I like it here a lot. Campus is nice. We've got a lot of nice players like Sherron Collins here," Appleton said. "This is a great place to be."
Asked if he'd dance at the Boogie, Appleton said: "I don't dance. I just watch."
Appleton and several KU players past and present will be competing in the second-annual KC Pro Am League, June 20 to Aug. 8 at Penn Valley Community College in Kansas City.
¢ Faces in crowd: Former KU assistant coaches Tim Jankovich and Norm Roberts attended. Roberts, head coach at St. John's University, is a member of Self's Assists Foundation Board. Jankovich is head coach at Illinois State. Other members of the board: Kent McCarthy, Joanie Stephens, Miles Schnaer, Simien and Cheryl Womack.
"Miles and Cheryl made this happen," Self told the fans at the Boogie. "They've been persistent. It's not easy to put on a party the first time for 1,000 to 1,200 people. Everybody's been so generous at the Speedway as well."
¢ Self joked with Sawyer Brown lead singer Mark Miller, who said he was a pretty good basketball player.
"Ask Kevin Pritchard," Miller said of the former KU guard, now general manager of the Portland TrailBlazers.
"You lit Pritchard up? Heck, everybody lit Pritchard up when he played here," Self joked.
Copyright 2018 The Lawrence Journal-World. All rights reserved. This material may not be published, broadcast, rewritten or redistributed. We strive to uphold our values for every story published.