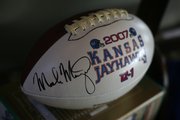 Wife Mary Jane at his side, Mark Mangino stood at the mouth of the Alvamar Country Club dining room and listened to the same message over and over Friday night as well-wishers walked through the greeting line: "We love you, coach. You're doing a great job."
Everybody loves a winner.
Consensus national coach of the year after a 12-1 season and an Orange Bowl title, Kansas University's football coach is in demand more than ever and quietly has given his time to various charities, such as the benefit for the Lawrence Community Shelter, for which the Manginos and artist Stan Herd were co-hosts.
The perception of Mangino might have changed, but the coach still takes the sawing-wood approach to his job.
"Things haven't changed for me," he said. "I'm doing the same thing I was doing last year at this time, staying focused on getting the team ready for next season."
If anything, Mangino said, the best season in Kansas history has made the players work even harder.
Of the talent level of this coming year's team, Mangino said, "I'm not too caught up in talent. We have plenty of talent, enough to be successful. It's the work ethic and focusing on the task at hand that I get caught up in."
Of the 22 defensive players on the depth chart at season's end, only tackle James McClinton and cornerback Aqib Talib are gone. Offensively, running back Brandon McAnderson, wide receiver Marcus Henry, tight end Derek Fine and tackles Anthony Collins and Cesar Rodriguez must be replaced.
Jocques Crawford has generated the loudest buzz one week into summer workouts. He reported at 230 pounds and breezed through a 40-yard dash in 4.6 seconds. Crawford averaged 6.8 yards per carry and rushed for 1,935 yards and 19 touchdowns as a sophomore for Cisco Community College in Texas.
"He looks to be in good shape, but he'll be the first to admit he's got a lot of work to do," Mangino said.
Meanwhile, McAnderson, who rushed for 1,125 yards and 16 touchdowns, remains a football player without a team after getting cut by the St. Louis Rams. His 40 time of 4.8 has been a tough hurdle to clear.
"They ought to measure his heart, not his 40," Mangino said.
Copyright 2018 The Lawrence Journal-World. All rights reserved. This material may not be published, broadcast, rewritten or redistributed. We strive to uphold our values for every story published.