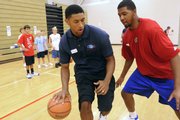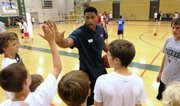 Kansas University's Morris twins, who had watched Wayne Simien play basketball on TV many times, finally met the Jayhawk All-American this week.
"I think I want to get to know him better as a person because he's a great role model," Marcus Morris, KU's 6-foot-8, 220-pound freshman small forward from Philadelphia, said Wednesday after working the afternoon session of Simien's "Called to Greatness" camp for youths at Free State High.
"He's a nice guy. He's a KU legend. It's great to be around him," noted 6-10, 230-pound Markieff Morris, who like Simien, is a power forward.
"We're here working with the kids, dunking for them, blocking their shots and playing some 1-on-1 and we're around Wayne. He's showing us the way ... how to be great. We are taking things from him and putting it to ourselves," Markieff added.
The Morris twins listened intently with 120 afternoon campers and other camp counselors as Simien's personal trainer, Doug Hix of California, spoke to the youths about some life lessons, quoting scripture along the way.
Simien's camp is one of a kind - combining basketball instruction and scrimmaging with ministry.
"This is a first. I've never been in an atmosphere like this," Marcus Morris said. "Wayne is teaching the kids more than basketball, more than just the game."
Marcus Morris was asked why more athletes can't be like Atlanta Hawks forward Simien, who does not drink or use drugs and tries to embrace being a role model for youths.
"I don't know. I wish they could," Marcus said. "I mean, everyone in Lawrence is a great person. There are great people here. It's different where I live at (Philadelphia). There are not so many great role models like Wayne."
The twins have been staying busy, not only working camps, lifting weights and playing in the KC Pro Am summer league with members of Haskell Indian Nation University's team, but finishing a core high school course they hope, coupled with their SAT scores, will make them eligible to play basketball this season at KU.
"I'm still finishing my work," Marcus said of the class. "I'm working as hard as I can to get ready for the season. I want to be able to play this year for my team and not let anybody down."
"We're very close; there won't be too much more of a wait," Markieff said of being deemed eligible.
Markieff, who averaged 27.2 points and 12 rebounds, compared to Marcus' 24 points and eight boards last season at APEX Academies prep school in New Jersey, both are expected to play meaningful minutes, if not start, this upcoming season.
"They're good players. It's been great having them here dunking for the kids and having fun with them," Simien said.
The twins also have participated in some camp games with the counselors.
"Markieff is a mobile 4 (power forward)," Marcus said, assessing his brother's skills. "He's a 4 who can really shoot the three-ball extremely well. And he's a great shot blocker and great rebounder. Maybe he can get a little stronger so he can guard the 5 (center) and play the 5 sometimes."
As far as Marcus' own game: "I think I can guard every position on the court. I just think I need to get a little bit stronger and a little quicker make sure I'm more polished at guarding the 1s (point guards) and the 5s. I think I have a lot to learn about both about being on the ball defender and a help defender, just a lot about the game, period. That's what I have good coaches for."
Copyright 2018 The Lawrence Journal-World. All rights reserved. This material may not be published, broadcast, rewritten or redistributed. We strive to uphold our values for every story published.