Photo Gallery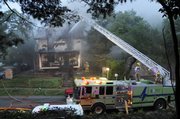 1005 Indiana Fire
Lawrence Douglas County Fire and Medical crews respond to a house fire at 1005 Indiana on Thursday.
Photo Gallery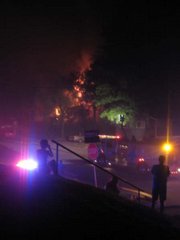 Reader photos: 1005 Indiana Fire
Stephanie Sullivan arrived on the scene of the fire just after the firetrucks did and took these photos. If you have photos or video to submit, <a href="http://www2.ljworld.com/submit/photo/">click here</a>.
Lawrence-Douglas County Fire & Medical said late Thursday that a fire at 1005 Ind. was caused when a couch on the front porch was ignited by the illegal use of fireworks.
The fire injured two college students, caused $360,000 in damage and totaled the house, Chief Mark Bradford said. The multiple-alarm fire broke out about 5 a.m. Thursday.
The four college-age men inside the house all escaped the fire.
One of the men, Adam Renfro, 21, a KU senior who was asleep in the downstairs when the fire started, said two of his friends jumped from an upper floor of the house.
"I heard my friend yelling like, 'Help, help, help!' from the second floor," he said.
Renfro said he didn't see him jump, "but I saw him laying there really hurt."
When he ran again to get a police officer, his other friend jumped out of the same window, he said.
"Luckily, he was fine," he said.
Bradford said the man had minor smoke inhalation injuries and was taken to Lawrence Memorial Hospital, where he was treated and released.
The roommate who jumped, Sam Buhler, a KU senior from Lawrence, was transported to KU Hospital in Kansas City, Kan., with serious injuries he received after jumping to safety, Bradford said. Later, his father, Mark Buhler confirmed he was in stable condition but needed a knee operation.
A third person, a Lawrence firefighter, was also treated at LMH for nonlife-threatening injuries.
Firefighters were called at 5:12 a.m., when a dense layer of fog blanketed Lawrence, making it difficult to distinguish smoke from fog.
"It's a significant incident," Bradford said. "With the amount of fire that's there, it gets into a lot of areas and travels quite quickly."
Renfro said when he ran to the front of the house, "the whole front porch was just lit up."
Bradford said the department's largest ladder truck failed when its ladder would not rise, for unknown reasons, affecting the department's ability to fight the fire.
Off-duty firefighters were called in to cover other calls in Lawrence and Douglas County, while on-duty firefighters responded to the house fire, Bradford said.
A wired alarm system in the home woke two of the men, said Rob Farha, who co-owns the home with three other people. The house is registered to Crimson Properties LLC. Farha has ownership in several properties in Lawrence, including The Wheel, a bar at 14th and Ohio streets.
Farha said that the house was rehabilitated four years ago and that the fire was devastating.
"I wish you could've seen what we had done - pretty proud of it, it was pretty nice," Farha said. "We put a lot into it, but by the looks, it's destroyed."
The Douglas County chapter of the American Red Cross is working with the home's occupants to provide emergency assistance.
Copyright 2018 The Lawrence Journal-World. All rights reserved. This material may not be published, broadcast, rewritten or redistributed. We strive to uphold our values for every story published.