When Kansas University razed four houses in the 1300 block of Ohio in October 2002, it did more than create a controversy in the historic Oread neighborhood.
It also sparked a business idea. Since the razings, two groups of developers have opened boarding houses in the neighborhood.
Both development groups have sunk thousands of dollars into dilapidated homes with the idea of renting them out to a group of 10 to 12 people who each pay more than $400 a month in rent.
By fixing up the houses, developers think it will be much more difficult for KU officials to come into the neighborhood with demolition plans like they did in 2002.
"When you put this kind of money into a house, the chances of KU buying it and tearing it down goes way down," said Jeff Hatfield, a partner in the development company Crimson Property, which recently opened a boarding house at 1334 Ohio.
Giving new life
Hatfield declined to comment on how much the group -- which includes partners Tom Devlin, Jon Davis and Rob Farha -- spent to renovate the house. But he said the nearly 100-year-old house easily could have become a candidate for demolition.
"A year ago, this house was about to fall down," Hatfield said. "The apartments on the top floor looked like some place William Burroughs, Allen Ginsburg and Jack Kerouac would have lived. It looked like nobody had lived up there in 50 years."
The developers turned it into a 6,000-square-foot boarding house that features 12 bedrooms, seven bathrooms, a kitchen, hardwood floors, Internet hookups in each room, a deck and a patio. A wrought-iron fence surrounds the property and parking space was added behind the house.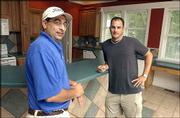 Beginning this week, the house will be rented to a group of 12 KU students who know each other and want to live together. Developers are renting the house out for $425 per person, per month. In addition, they'll pay a monthly cleaning fee and will be responsible for any damage done to the house, which will be inspected by the landlords each month.
More to come
The development group is betting the venture will be successful. The partners already have begun work on converting other properties into boarding houses.
According to Farha, the partners are working on refurbishing houses at 1416 Tenn., 1219 Ky. and 1005 Ind. The boarding house projects require special zoning, which the group is still awaiting approval for on the project at 1416 Tenn.
Farha said the group was trying to work on houses that were closer to campus and the bars.
"We like the location near campus and we like the older houses," Devlin said. "It would have been a lot cheaper to tear (the house at 1334 Ohio) down and build something new, but because of zoning we couldn't have built anything near this size."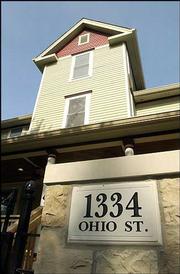 Group living
The Crimson Property partners are not the only ones investing in a boarding house. Serina Hearn and her husband, Tony Backus, bought and restored a historic house at 1121 Ohio. It was rented to a group of 12 women who all knew each other and were seniors at KU.
Like the Crimson Property group, Hearn only rents the homes to students who know each other. Hearn said the boarding house was a good option for seniors who didn't want to or couldn't live in their fraternity or sorority houses, but wanted to keep living in a communal setting.
That's what attracted the tenants to Crimson Property's boarding house at 1334 Ohio. All but one of the students are members of the Sigma Phi Epsilon fraternity.
"This is a great location because we're only three blocks from our fraternity house," said Chad Anderson, who will live in the boarding house. "It gives us the opportunity to still be involved."
Plus, the upscale renovation of the house made it better than living in a traditional apartment, other residents said.
"It's amazing," said John Nugent, also a boarding house tenant. "I'm blown away; nobody deserves to live in a place like this when they're in college."
Neighborhood concerns
Several neighbors said the jury was still out on whether the new housing trend would be a positive one.
Candice Davis, president of the Oread Neighborhood Assn., said she saw both positives and negatives.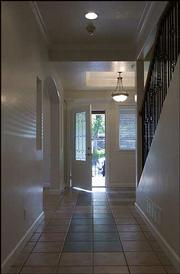 She said she liked that the Crimson Property partners wanted to take the time and money to fix up the house, but wished they would have kept the original design of the house.
"This new boarding house has had the inside gutted," she said. "In some cases that has to be done, but it's nice when (developers) keep with the original style."
She's concerned parking also may become a problem. The Crimson Property group received a variance from city code that requires 1.5 parking spaces for every two residents. They successfully argued the house didn't need that much parking because it is within walking distance to KU and downtown.
"It may be fine for now," Davis said. "But if everybody comes in wanting a variance to the parking code we'll have a problem. It's one of those things that requires caution."
James Dunn, who is an Oread Neighborhood Assn. board member, said he thought the newest boarding house was a nice addition to the neighborhood, but worried that too many of them could change the fabric of the neighborhood.
"Nobody who lives here will probably stay any longer than two years," Dunn said. "When you think of a neighborhood you think of some kind of stability."
Copyright 2018 The Lawrence Journal-World. All rights reserved. This material may not be published, broadcast, rewritten or redistributed. We strive to uphold our values for every story published.