Photo Gallery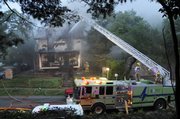 1005 Indiana Fire
Lawrence Douglas County Fire and Medical crews respond to a house fire at 1005 Indiana on Thursday.
Photo Gallery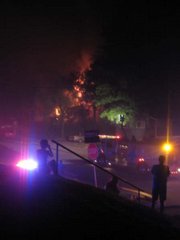 Reader photos: 1005 Indiana Fire
Stephanie Sullivan arrived on the scene of the fire just after the firetrucks did and took these photos. If you have photos or video to submit, <a href="http://www2.ljworld.com/submit/photo/">click here</a>.
Efforts to fight Thursday morning's fire at 1005 Ind. were seriously hampered by the failure of a fire truck that Chief Mark Bradford had repeatedly warned city leaders about.
When firefighters sought to raise the 100-foot ladder on the department's 10-year-old aerial truck, it simply wouldn't move.
"It obviously did have an impact on our fire attack," Bradford said. "It was significantly delayed in getting large volumes of water on the fire."
Bradford said he did not believe the house could have been saved even if the ladder truck had been operational, but he said the failure showed how frail the city's fleet had become.
Bradford has been sounding alarms about the condition of the city's fleet for the past two years. Bradford this summer asked that up to $1.3 million be placed in the 2009 budget to purchase a new ladder truck for the city.
But that request was not included in City Manager David Corliss' recommended budget. Corliss said he could not recommend approval of the purchase unless city commissioners were willing to increase the city's property tax rate.
Thus far, a majority of commissioners have been staunch opponents of any property tax increase. And Thursday's equipment failure, it appears, did not change that position.
Instead, City Commissioner Mike Amyx said the incident shows the importance of voters approving a proposed three-tenths of a cent sales tax increase in November. That would provide $500,000 a year for fire truck replacement.
"We realize we have an aging fleet, and we know we have to come up with a way to pay for it," Amyx said. "The sales tax is the best way we can figure out right now."
The city is in the process of purchasing approximately $2 million in new fire equipment this year because it was determined the purchases could be made without increasing the mill levy. Future purchases, though, need to come from sales taxes, commissioners have said.
Bradford began expressing concern about the condition of the city's fire fleet shortly after he was appointed chief in November 2005. Over the past two years, Bradford has told commissioners that the condition of the fleet is at a "critical state" and that many pieces of equipment are "falling apart."
For decades, the city has not had a policy of setting aside a certain amount of money each year to replace fire vehicles. That is different from what is done for police and ambulance vehicles, which do have annual replacement programs.
The sales tax proposal marks the first serious effort to create an annual replacement fund for fire trucks, both Corliss and Bradford said. But now there is concern about whether the program will be too little, too late.
"We have recommended a vehicle replacement program over time," Bradford said. "The problem is we don't have a lot of time, and this is an example of that."
Worries about ladder trucks
The city has two 100-foot ladder trucks - one on active duty and another in reserve.
The active-duty truck is a 1998 model with 5,000 engine hours and has a city maintenance score of 31 points. The reserve truck is a 1986 model with 7,000 engine hours and has a city maintenance score of 51 points.
Any vehicle with a city maintenance score greater than 30 is recommended for replacement, according to the city's vehicle rating system.
After Thursday's ladder failure - which is still being investigated - Fire Chief Mark Bradford placed the reserve truck on active duty. The ladder trucks are the main piece of equipment used to perform rescues at multistory buildings.
Copyright 2018 The Lawrence Journal-World. All rights reserved. This material may not be published, broadcast, rewritten or redistributed. We strive to uphold our values for every story published.