Ah, fire trucks: The bright, shiny - and once again red - machines are what little boys' dreams are made of.
City leaders, though, may soon find out that they also can create nightmares for the people who have to pay for them.
Lawrence Fire Chief Mark Bradford is preparing a plan for how the city can replace its aging fleet of eight fire trucks. It's a report city commissioners and administrators will read eagerly because with fire trucks ranging in price from about $500,000 to $1 million, a large-scale replacement program will put heat on the city budget.
"It's definitely time for us to develop a plan for how to replace our firefighting apparatuses," Bradford said. "Making sure we have equipment that is in good condition is very important. These are not like an ordinary automobile. It's a piece of safety equipment that has to be in top-notch performance every day."
The big question the report - scheduled to be completed within the next month - will answer is how quickly the city must replace its fleet. Bradford said he doesn't yet have a feel for that, but there are signs that the fleet is suffering from wear and tear.
Before the study was even complete, Bradford successfully lobbied city commissioners to include the purchase of a quint fire truck in the 2007 budget. He had a pretty good argument for the $800,000 purchase.
Photo Gallery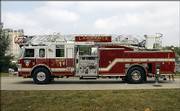 Firefighting fleet
"The tank on it was leaking out more water than we could put in," Bradford said of the truck, which is one of the main units for Fire Station No. 4 in western Lawrence. "We've done a temporary fix on it. We're keeping our fingers crossed that it remains intact until we replace it."
Whether other trucks in the city's firefighting fleet are set to have those type of problems is what Bradford is trying to determine. What he knows for sure is that the leaky, 14-year-old quint is not the department's oldest truck.
The oldest is a 19-year-old ladder truck that the department uses as a reserve, meaning it is called into service only when the main ladder truck is out of service or in cases where both ladder trucks are needed at once. It also would be the most expensive truck for the city to replace, with an estimated cost of $1 million.
With price tags like that, city commissioners are going to demand a lot of information before they make any new purchases.
"I know that I don't want age to be the critical determinant in whether we replace a unit or not," said City Commissioner David Schauner. "Condition has to be the main factor. You can have an old fire truck that is still perfectly fine for us to use."
Bradford said he's not going to rely solely on age either. He'll look at maintenance records, appearance, the number of operational hours a truck has accumulated and the safety record of each vehicle.
But Bradford did say that most major fire departments across the country seek to rotate trucks out of service after seven to 10 years, which is about the time that many warranties begin to expire. Except for one new truck that the city purchased when it opened its newest fire station this year, all of the city's firefighting fleet is at least six years or older.
Interim City Manager David Corliss said Bradford was one of several department heads who have been asked to take a close look at their vehicle needs. Corliss said vehicles shouldn't be a forgotten piece of the city's infrastructure equation.
"Citizens' lives and property are at stake with some of these vehicles," said Corliss. "We don't want this to grow into a silent crisis for the community. We don't want to have to sound the alarm on this."
Other city departments that have been directed to prepare reports on vehicle replacement plans include the public transportation department, public works, and parks and recreation.
"We want to make sure that we aren't ever hit by a whopping price tag to replace a lot of vehicles all at once," Corliss said. "We want a multi-year plan to replace those."
Copyright 2018 The Lawrence Journal-World. All rights reserved. This material may not be published, broadcast, rewritten or redistributed. We strive to uphold our values for every story published.