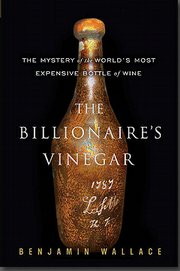 "The Billionaire's Vinegar: The Mystery of the World's Most Expensive Bottle of Wine" (Crown, $24.95) is a cautionary tale: Money will make you stupid.
Benjamin Wallace takes us on a tour of the ridiculously rich, the underworld of wine forgery and a Founding Father's great passion. We begin in the august auction rooms of Christie's in London, where a Forbes scion in 1985 pays a record $156,000 for a bottle of 1787 Chateau Lafite Bordeaux believed to have been owned by Thomas Jefferson.
For nearly 300 pages, Wallace then ably takes us on a tour of how wine moved beyond agricultural foodstuff to pricey collectible coveted by the world's wealthy.
Enthusiastic to show off their good taste, not to mention their fat wallets, a small group of collectors worldwide threw extravagant "mega-tastings" with dozens of wines, many of them vintages that spanned centuries.
The most riveting part of the story is the mystery of Hardy Rodenstock, former rock band manager turned wine whisperer. The German had a knack for finding the rarest of vintages, fetching extraordinary prices from eager collectors.
Afraid of being cut out of Rodenstock's clique, financiers, industrialists and scientists checked common sense at the door. (North Texas has a cameo in Fort Worth neurosurgeon Marvin Overton III, a wine collector who also hosted some of the extravagant tastings.)
Even the so-called experts turned a blind eye to the apparent chicanery. Christie's Michael Broadbent created modern wine auctions with the liquid treasure he unearthed from Britain's castle cellars. But he, too, was seduced by Rodenstock and went to extreme lengths to give the German credibility as more and more collectors began to doubt him.
All in all, Wallace nicely peels back the covers of a world most of us will never see. The book takes on a "C.S.I." flair in the chapters dealing with the extreme methods forgers employed to create their goods, and the complex systems scientists have devised to root out the fakes.
The book's ending is lacking and feels rushed. Though the book suggests that Rodenstock was a fraud, there's no definitive conclusion, which is unsatisfying.
On the one hand, you want to see justice served. On the other, perhaps his wealthy targets simply got what they deserved.
Copyright 2018 The Lawrence Journal-World. All rights reserved. This material may not be published, broadcast, rewritten or redistributed. We strive to uphold our values for every story published.