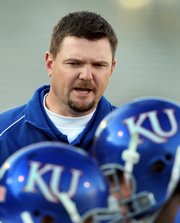 Clements' career
Here's the career path of Joe Bob Clements:
¢ Played at Emporia High (1990-1994)
¢ Played at K-State (1994-1998)
¢ KSU graduate asst. (2001)
¢ KSU def. ends coach (2003)
¢ San Diego St. defensive line coach (2006-2007)
¢ Kansas defensive line coach (2008-present)
The phone call that would change the course of Joe Bob Clements' football career - and his life, really - was made from a parking lot pay phone outside of Emporia High School.
This was in 1994. It was a weekday afternoon in January ("For all I know, I should have been in class," says Clements). The previous evening, after a conversation with his father, Clements, at the time an 18-year-old lineman on the Emporia football team, had decided he wanted to play Division-I football.
This was a nice idea, except for the fact that Division-I recruiters were pursuing Clements with about the same tenacity as NBA scouts pursue 6-foot forwards.
His hopes in this matter rested solely on a then-Kansas State assistant coach with whom he had spoken only a handful of times during the course of his high school career.
But he had the coach's number and a feeling in his gut that he couldn't seem to shake, and so Clements, standing in the January cold, punched the number into the phone, listened to it ring a few times, and then proceeded to explain to the assistant exactly why he wanted to walk-on to the Kansas State football team the following fall.
The coach listened, taking in the young man's words.
Then he delivered his verdict.
"Come on," Mark Mangino said. "We'll give you a shot."
Proving himself at KSU
Without that phone call - or, more precisely, the events that followed it - there is a very good chance that Clements would not be in the position he is today, hired by Mangino in February to take over as the defensive line coach for an out-of-nowhere Kansas football team.
After sweating through two years as a walk-on defensive end at Kansas State, Clements managed to earn an unlikely scholarship entering his third season in Manhattan. He quickly justified the decision by earning All-Big 12 honorable mention recognition as a senior in 1998, finishing his career with 107 tackles in 41 games and surprising even himself with his on-field feats.
"My career was kind of like an old pickup," Clements says now. "Rode the hell out of it until I couldn't ride it no more - and probably got better mileage out of it than I should have."
'I'll take the job'
When his eligibility ran dry in '98, Clements stayed in Manhattan to work as an administrative assistant to then-head coach Bill Snyder. It wasn't glamorous work. He fetched coffee. He put together player manuals. But he was also given a front-row seat to one of the most successful college football programs of the decade. In 2001, he was promoted to graduate assistant, and by 2003 he was coaching the defensive ends. That year, Kansas State led the nation in sacks and was sixth in total defense, earning a Big 12 title and a berth in the Fiesta Bowl.
Three years later, following Snyder's retirement, he took a job as the defensive line coach at San Diego State. There, he did well enough that he picked up the phone one day last winter and heard Mangino's voice on the other line.
For the past six seasons, Mangino had been busy overhauling Kansas University's football program, steering it to the most successful year in school history in '07. Now, though, with his defensive coordinator off to the University of Miami and the ensuing reshuffling of assistants that followed, Mangino needed someone to take over defensive line duties.
The coach began to run through the job description over the phone, highlighting the responsibilities the position entailed.
Clements stopped him short.
"Coach, I'm not worried about that stuff," he said. "I'll take the job."
'An enviable situation'
By any stretch of the imagination, Clements, who spent three years living in Lawrence while in middle school, is entering into an enviable situation. Last season, the Kansas defense led the Big 12 Conference in total defense (317.31 yards per game), scoring defense (16.38) and tackles for loss (7.69), while the team finished the season with a No. 7 national ranking - the highest in school history.
While this season will surely provide the usual hurdles - the Jayhawks lose all-American James McClinton to graduation and possible starter Todd Haselhorst recently left the team for health reasons - there are enough positives (the return of '07 regulars Russell Brorsen, John Larson and Caleb Blakesley, for instance) to warrant a sense of comfort.
By his own admission, Clements' approach to his new post has not been overly groundbreaking. It centers on outworking opponents. Attempting to drain every ounce of talent he can from his linemen. Making sure no detail goes overlooked.
"I think everybody says those things," says Clements, sitting in front of a computer in the KU football offices recently. "But the difference between average coaches and the ones that go on to be successful is that successful ones actually go out and do it."
Passing the word on
Says Brorsen, whose first-quarter sack in the Orange Bowl helped spark a defensive outburst against Virginia Tech, "He's about making plays. There's a lot of freedom on the defensive line (this year)."
And if things go the way they have since he accepted Mangino's walk-on offer all those years ago, there is reason to believe Clements' hire will be looked upon swimmingly by the Lawrence populous.
"It takes a special young man to go through everything you go through as a walk-on and eventually become a starter," says Dirk Wedd, Lawrence High's football coach and a longtime family friend. "And then to start at the bottom of the ladder again and have to work his way up to a full-time assistant (to Snyder)? That says a lot about the kind of person he is."
As for Clements, life appears to be good at the moment. Soon, of course, the chaos of the regular season will descend and family time will give way to work time and sleep will give way to game-planning.
But for now, back in his home state and part of a program gunning for its first Big 12 title in school history, Clements is quite aware that there's much to smile about.
"I understand," he says, grinning, "that I'm very fortunate to be where I am right now."
Copyright 2018 The Lawrence Journal-World. All rights reserved. This material may not be published, broadcast, rewritten or redistributed. We strive to uphold our values for every story published.