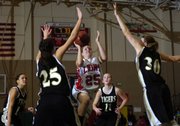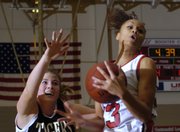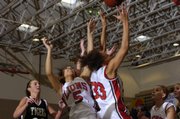 Topeka — Layups rimmed out. Jumpers clanged off the front iron. Three-pointers didn't even reach the hoop.
Not the way Lawrence High's girls basketball team envisioned playing for the first three quarters of the championship game in the Capital City Classic on Saturday evening.
It wasn't until LHS trailed by 18 points in the final quarter that it mounted a furious - and nearly miraculous - comeback against Blue Valley High.
But the rally didn't begin soon enough, and the dream of capturing two tournament titles in one week died on the Highland Park court with a 71-62 defeat. Turns out, winning four games in five days isn't all that easy.
On Tuesday, the Lions played in the title game of the Saints Classic against Class 5A power Overland Park Aquinas.
On Saturday, LHS floundered from the field while meeting an equally tough opponent. And Lawrence coach Kristin Mallory admitted all those games may have drained her players emotionally.
"When we went through a drought and started missing shots, we quit playing defense," Mallory said. "I think they were tougher than we were. They roughed us up, they jammed our cutters, and they even posted their guards well."
Blue Valley's stingy defense greatly affected the Lions' outside shooting, which abandoned them altogether for the first 25 minutes of the game. LHS missed its first 14 three-point attempts before Cassie Potter finally nailed a three in the fourth quarter.
The Lions weren't much better from anywhere else on the floor, either. Lawrence was held to 9-of-32 shooting in the first half and trailed by nine after Taylor Hanson's three at the buzzer gave Blue Valley a 36-27 lead.
When Morgan Matile scored a layup with 4:50 left in the game, the Tigers' advantage ballooned to 55-37 and the game appeared all but over.
Then, the Lions (11-2) began executing the brand of basketball that has made them look like a state title contender for much of the year.
They pressured full court, went after loose balls and made a three-pointer or two.
Or six.
It started with Potter's three, followed by Haley Parker's three-ball from the corner. Danielle Bird then buried one from straight on with 2:55 left to cut the lead to 12. Forward Tania Jackson knocked in two long balls, and Potter notched another trey.
All of a sudden, LHS trailed just 63-58 with 1:20 left.
The Lions got no closer, though. Blue Valley - which shot a whopping 45 free throws - nailed eight freebies in the final 70 seconds to seal the championship.
For Lawrence, the revival was too little, too late.
"We just can't play five minutes in the fourth quarter and expect to win," Jackson said.
"It (stinks)," a frustrated Danielle Bird said. "Really, no other words. It (stinks) trying this hard and then trying to come back in the fourth quarter, hitting all those threes, thinking you're going to win and then to end up not winning."
Bird led the Lions with 16 points and seven rebounds. Jackson scored 13 and snagged six boards. Hanson led Blue Valley with 28 points.
LHS heads back into conference play Friday night at Olathe East, and Mallory said she hoped her team would learn from its mistakes against the Tigers.
"Your defensive effort shouldn't change because you've made a couple of shots," she said. "Your defense should be like that the whole time."
Copyright 2018 The Lawrence Journal-World. All rights reserved. This material may not be published, broadcast, rewritten or redistributed. We strive to uphold our values for every story published.