Photo Gallery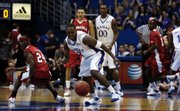 KU vs. Nebraska
Kansas State freshman phenom Michael Beasley has been telling anybody and everybody who'll listen that the Wildcats will halt Kansas University's 24-game winning streak in Manhattan this season.
"We're gonna beat KU at home. We're gonna beat 'em at their house. We're gonna beat 'em in Africa. Wherever we play we're gonna beat 'em," Beasley said at a summertime Catbacker function.
With the next edition of the Sunflower Showdown set for 7 p.m. Wednesday at Bramlage Coliseum, the Jayhawks have been reminded of Beasley's boasts. They include this week's comment to a Kansas City television reporter that the 'Cats also would beat the Jayhawks in Alaska, if they ever play there.
"He talks some trash. I'm fine with it. I don't listen to it really," said KU sophomore Darrell Arthur, a teammate of Beasley's on last year's USA Basketball Under 19 team until Arthur had to leave because of an injury. "He always says some funny things. He did last summer, too, on the USA team."
Arthur was asked Saturday to compare Beasley to Kevin Durant, the No. 2 pick in last year's NBA Draft who played against KU twice last year.
"I think Durant is probably better. He's a better all-around player, has a nice outside game. Beasley is good, too. He's way stronger than Durant," Arthur said. "I think Durant is a little better."
KU sophomore Sherron Collins grinned when asked about Beasley's guarantee of a KSU victory.
"It's funny to me. He's just basically putting a little more on it," Collins said of the KU-KSU game. "It'll make us get after them. To say something like that : we'll take it all in and not respond. We try to let our game talk for us."
KSU's Bill Walker, by the way, has also called for a KSU victory.
"I'll predict it. I'm not scared to say it. I'm a man," Walker told the Journal-World at Big 12 Media Days. "I can live up to my words. I'm saying we'll beat 'em. Both places (Lawrence and Manhattan).
"Ah don't print that, I'm playing," Walker added. "It'll be a great game this year."
KU junior Brandon Rush may be extra motivated Wednesday, but not because of Beasley. Kansas State fans have been pestering him by calling his cell phone the last couple of days.
"They're already calling Brandon. They don't have my number. They have his," Arthur said.
Of KSU's victory predictions, Rush said: "I don't pay much attention to that. We'll let the game play out."
KU coach Bill Self said Beasley's comments constitute no big deal.
"It would be hard to get the whole traveling party to those places," Self cracked of Africa and Alaska. "That doesn't bother me. I'll be honest with you. My guys have confidence.
"Regardless of what anybody says concerning predictions, that won't have anything to do with what happens between the lines," added Self who indicated he would "talk to our players about that (Beasley's words). But when a guy is averaging 24 and 13, I think he has the right to talk a little bit."
Copyright 2018 The Lawrence Journal-World. All rights reserved. This material may not be published, broadcast, rewritten or redistributed. We strive to uphold our values for every story published.