Photo Gallery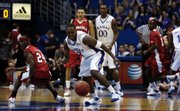 KU vs. Nebraska
Sign of the times: Tom Younger of Victoria held a sign that read: "Jayhawk Fan for 66 years: First game in fieldhouse."
Younger, 75, attended with five friends who made the long trip via limo.
"I see every game on TV or listen on the radio but just never made it down for a game," Younger said. "Finally somebody asked me to go. I love it. I'll get down here more often now."
¢ Recruiting: Tyrone Appleton, a 6-foot-3 sophomore from Midland (Texas) College, had some travel problems and was unable to attend Saturday's game. He was to be in town for today's KU clinic with Special Olympians. Appleton, who averages 12.7 points and 5.5 assists per contest, is considering KU, Iowa State, Kentucky, Texas and San Jose State. He's the No. 3 juco prospect in the country. KU already has landed a commitment from No. 1 juco player Mario Little of Chipola (Fla.) CC. : Junior Xavier Henry, 6-6 from Putnam City, Okla., will make an unofficial visit to KU for the Colorado game on Feb. 16. His dad, Carl, will be part of KU's basketball reunion weekend. All former players are invited back for the CU contest.
¢ KU vs. Tigers someday?: Memphis coach John Calipari said after Saturday's victory over Gonzaga he'd like to schedule a game with KU perhaps as early as next year on a neutral floor.
"I'd like to play that game. I don't know if it'd happen based on the way our schedule is now," said KU coach Bill Self, who figures to have an exceedingly young team next season. "I hope that happens when the time is right."
KU senior associate AD Larry Keating said he's had preliminary discussions with Memphis "I don't think so at this point, maybe the following year," Keating said.
¢ Chemistry the best: Self was asked about the chemistry of this year's team.
"It's as good as I've ever had. Our Tulsa team my last year was a great team," he said. "We had some really good Illinois teams where the chemistry was not quite this good - some good Kansas teams the chemistry not quite as good. I think this is the best I've been around.
"You can have great guys, unselfish, and sometimes the pieces don't quite fit right. This is one of the rare occasions, at least after four months, the pieces fit. Hopefully we'll continue to play unselfishly."
¢ Is 20 victories a huge milestone?: "No, no" Self said. "You guys (media) will be the first to admit to this : when we get to March, nobody will be thinking how many we won to start the season. We've got to keep getting better."
¢ Flu bug hits: KU director of basketball operations Ronnie Chalmers missed the game. He's been suffering from the flu.
¢ This, that: Nebraska's 14 first-half points marked the fewest points in a half by a conference opponent since Iowa State scored 14 points in the first half on Feb. 24, 2007. : KU is 5-0 in league play for the first time since the 2004-05 season when KU opened 10-0. : KU has won 28 straight regular-season games and has won 19 straight at home. : Self won his 125th game at KU against 29 defeats : Darrell Arthur (18 points) scored in double figures for a team-best 18th time in 20 games. : Darnell Jackson set a career high with five assists. His previous best was three versus Winston Salem State on Dec. 19, 2006. Jackson dished all five assists in the first half. : Mario Chalmers had seven assists. He was 0-for-1 from beyond the arc breaking a string of 11 straight games with a made three. : Russell Robinson had four steals, most since he totaled eight versus Yale on Dec. 29. : KU had assists on 25 of 32 baskets (78.1 percent). KU had a season-high 26 assists versus Louisiana-Monroe on Nov. 9. : KU made 9-of-16 threes. The 56.3 percent mark was best since 62.5 percent versus Kentucky on March 18, 2007.
Copyright 2018 The Lawrence Journal-World. All rights reserved. This material may not be published, broadcast, rewritten or redistributed. We strive to uphold our values for every story published.