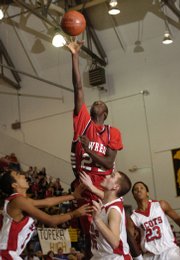 Topeka — No smoke. No mirrors. No sleight of hand. No tricks.
"You know what you're going to get when you play Highland Park," Lawrence High's Dorian Green said.
What the Lions received was a heavy dose of quickness, speed and shooting - ingredients that resulted in an 81-49 loss to the Scots in the semifinals of the Topeka Invitational Friday night in the Topeka High gym.
"We probably won't see a team as good as that the rest of the year," said Green, a junior guard who paced the Lions with 20 points.
Highland Park, the defending Class 5A state champ, stretched its winning streak to 35, leaving little doubt by blowing the game open with a 29-point salvo in the second quarter that left the Lions limp.
"We weren't playing bad," Lions' senior John Schneider said. "They just were playing good."
If the Lions collapsed on 6-foot-8 center Ty Modupe, the Scots unleashed three-point goals, and hit them. Guards Rico Richardson, Adrian Herrera and Canon Fields accumulated nine treys - four by Richardson, three by Herrera and two by Fields.
"They got hot and stayed hot," Green said.
Then when the Lions concentrated on stopping the Scots' outside shooting, Modupe wheeled underneath for a game-high 21 points, including 9-of-12 at the free-throw line.
"I'm disappointed the end result wasn't better," Lawrence coach Chris Davis said. "But they took us out of our offense. That's as good a team defense as we've seen all year long."
Meanwhile, the Lions' defense could hardly be faulted for lack of effort.
"Our defense was pretty good," Davis said. "We made them run more offense than I've seen them run. They're so quick and so fast, but we negated their fast break."
Lawrence started slowly, missing 12 of its first 13 shots, and trailed 12-7 after the first quarter. Less than a minute into the second quarter, however, a three-pointer by Schneider and a Green deuce brought the Lions into a 12-12 deadlock.
Then the wheels fell off.
"I blinked," Davis said, "and the next thing I knew they were ahead by 15."
And then it was 19 points (41-22) at the halftime break.
"You know what they're going to do," Green said. "You just can't stop it."
Lawrence (5-6) will meet host Topeka High at 3:30 p.m. today in the third-place game. The Lions had advanced to the semis with a 75-60 victory over Topeka Seaman on Thursday night.
"We need another win to get some confidence," Green said.
Green (20) and Schneider (11) were the only Lions to score in double figures. The rest of the roster managed just 18 points. That includes just four points off the bench - two free throws apiece from Jared Vinoverski and Kenton Riley.
Copyright 2018 The Lawrence Journal-World. All rights reserved. This material may not be published, broadcast, rewritten or redistributed. We strive to uphold our values for every story published.