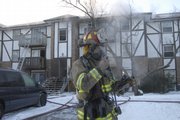 Lawrence firefighters responded about 5:30 a.m. today to an apartment fire at 2040 Heatherwood Drive, which is northeast of 23rd Street and Kasold Drive.
The fire broke out - when temperatures were below zero - on the second floor of a three-story building in Heatherwood Valley Apartments.
One apartment resident suffered nonlife-threatening injuries and was taken by private vehicle to Lawrence Memorial Hospital. No firefighter injuries were reported.
Officials said eight Kansas University students and two KU faculty members were displaced by the early-morning blaze. The KU Office of Student Success, as well as the apartment landlord and the local chapter of the American Red Cross are working to help find other housing for those apartment residents.
At 10:15 a.m., firefighters said the blaze was under control, but they have not yet determined the cause.
More details as they develop.
Copyright 2018 The Lawrence Journal-World. All rights reserved. This material may not be published, broadcast, rewritten or redistributed. We strive to uphold our values for every story published.