Photo Gallery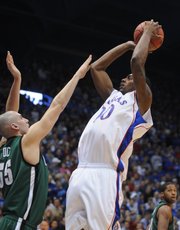 KU vs. Loyola (Md.)
In the eight games previous to Kansas University's 90-60 victory against Loyola of Maryland, senior guard Jeremy Case did not get off the bench twice and averaged five minutes of playing time in the other six games. Mario Chalmers' groin injury took Chalmers out of the rotation Tuesday night, a factor in Case playing 12 minutes.
He wasn't half bad. Case tossed a lob pass to Darnell Jackson on the run for one assist and spotted Rod Stewart open under the basket for another. Case drove to the hoop for one basket and nailed two three-point shots. He finished with eight points, three assists and two steals, yet wasn't doing any bragging afterward.
"I don't feel like I guarded well," Case said. "Coach (Bill)
Self didn't think I guarded well, and I agree with him. He knows I can guard better than that. I just have to get coach Self's confidence and his trust and that way he knows I'll be OK when I'm in a game in a tight situation."
¢ Moody in house: Former KU player Christian Moody attended and sat behind KU's bench. Moody reports he will travel to Australia to play pro basketball from March to August. He then will decide whether to continue a pro career or begin medical school.
"I've been accepted to KU Med School," Moody said, indicating he can delay start of school a year if he desires. "I'll go play, have fun and see what happens."
Moody and his wife live in Asheville, N.C. Loyola guard Garrett Kelly hails from Asheville and is best friends of Moody's brother, who is a walk-on player at North Carolina.
¢ Watson attends: Also in the house was Hunter Watson, 7, from Salina. Hunter, who lost his sister Chloe after a yearlong battle against a brain tumor on Oct. 17, shot the basketball with the Jayhawks on Tuesday afternoon and watched the game with his mom and aunt. Their seats were behind KU's bench.
Salina company Blue Beacon adopted the Watson family for Christmas and contacted Self, who phoned Watson with the offer to attend the game and also provided him a signed basketball.
¢ Stats, facts: Loyola is 0-18 all-time against ranked teams. No. 3 KU was the highest ranked team to play Loyola since No. 3 LaSalle in 1953. ... Chase Buford scored his first points in a regular-season game. He had two against Fort Hays State in the exhibition season. ... Russell Robinson's steal tied him for fifth place with Kirk Hinrich for most career steals at KU (206). ... Chiefs fullback Boomer Grigsby attended.
¢ Patsos 'thanks' Rush: Loyola coach Jimmy Patsos on Brandon Rush attempting just seven shots. "Tell him I said thank you for taking it easy on us."
Patsos on Self sitting Chalmers, who tweaked his groin at practice Monday. "Smart. Save him."
Copyright 2018 The Lawrence Journal-World. All rights reserved. This material may not be published, broadcast, rewritten or redistributed. We strive to uphold our values for every story published.