Photo Gallery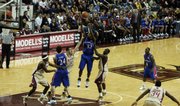 KU vs. Boston College
Rice is nice: Boston College's Tyrese Rice scored 14 of the Eagles' first 22 points and finished with 18 the first half.
He scored just two points the second half, hindered after picking up his fourth foul with 16:39 left.
"I told our guys if we really hunker down and guard we could hold him to 22 or 24 at halftime," KU coach Bill Self said. "Fortunately for us, he didn't score the last four minutes of the half. He kicked our butt. We caught a break when he got his fourth foul."
Rice hit five of nine shots the first half, including four of seven threes. He hit one of seven shots the second half, missing two three-point tries.
¢
Family affair: KU's Russell Robinson, who hails from New York, and Mario Chalmers, who has relatives in Boston, New York and North Carolina, each had family members on hand. "I probably had 15, 20 people here," Chalmers said.
¢
KU well represented in stands: There were at least 1,000 KU fans in the sellout crowd of 8,606. "I was surprised," Chalmers said. "KU fans do travel. It's one of the best things about KU fans. They travel to see the team."
¢
Faces in crowd: Ex-Jayhawk JoJo White, who works for the Boston Celtics, attended and sat near KU's bench. He received applause from the fans as he exited the game with about five minutes left.
¢
Bowl talk: Self was definitely impressed with KU's football victory in the Orange Bowl. "I just hope our basketball team plays to the level they played Thursday night," Self said. "If we do that, we'll be pretty good."
¢
Stats, facts: It was BC's worst home loss since an 78-53 loss to UConn on Feb. 11, 2001. : KU is 14-0 for the first time since the 2004-05 season, when the Jayhawks opened the year 14-0 : KU is 2-1 all-time against BC : KU is 37-3 in men's and women's basketball and football this season. That's a 93 win percentage. : The win marked the 11th time KU has had a 10-point victory in a true road game under Self and the fourth 20-point victory. It was the largest KU road win since an 82-56 win at Baylor last season. : Kansas had a season-high 10 dunks. : KU outrebounded Boston College 39-24 to mark the fourth double-digit rebound advantage this season. : Kansas' 10 steals marked the 10th time this season KU has double-digit steals.
¢
Boston revisited: Saturday's game was KU's first in Boston since 1949, when Bob Cousy's Holy Cross team beat Clyde Lovellette and the Jayhawks, 57-53, at Boston Garden.
"KU basketball started with the man who invented the game (Naismith) coaching the team," Lovellette, who lives in Munising, Mich., told the Boston Globe in a history piece this week. "Dr. James Naismith taught the game to Phog Allen, who was the dean of college basketball coaches for so many years. From those beginnings, there's a rich history and a great tradition to Kansas basketball that has carried through to the present day."
Naismith invented the game in nearby Springfield, Mass.
¢
Knee brace: Brandon Rush told ESPN's Andy Katz his right knee brace is starting to bother him and he'll likely discard it in February. Self says it's up to Rush if he wants to wear the brace or not. Rush has said he likes the brace and the support it gives his surgically repaired knee.
Copyright 2018 The Lawrence Journal-World. All rights reserved. This material may not be published, broadcast, rewritten or redistributed. We strive to uphold our values for every story published.