Photo Gallery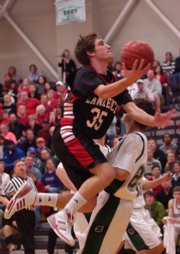 LHS boys vs. Free State
Lawrence High junior Dorian Green has fond memories of playing in the Free State High gymnasium.
Maybe it's the banners plastered on the wall that read "Go Green or Go Home" and "Go Big Green." Or maybe it's just the fact that, like all big-time players, Green steps up when it matters most.
Add Friday night to the list. The LHS point guard led the Lions to a 51-47 victory over their crosstown rivals in what only can be described as a game worthy of its hype.
More than a year after breaking onto the local high school basketball scene in the same gym, Green once again delivered in the clutch, scoring 10 of his 15 points in the final quarter. That included two free throws with 1.4 seconds remaining that put the game away.
But the thing that made Friday's game - and Green's performance - so intriguing was that this time he wasn't alone.
Free State senior Kris Wilson stood toe-to-toe with Green from start to finish. When Green hit a jumper with Wilson in his face on one end, Wilson answered with a three-pointer or drive to the basket on the other.
Green finished the night 5-of-11 from the floor and 4-of-6 from the free-throw line. Those numbers don't come close to explaining how clutch he was. His only three-pointer of the game tied things at 33 early in the fourth quarter. On the next possession, Green lobbed a lazy pass on the perimeter and saw Craig Rosenstengle race the other way for what looked like an easy layup. Thing was, Green recovered in time, blocked the shot and hit a jumper two possessions later to give LHS the lead.
Wilson was equally as impressive, if not consistently better. He finished with a game-high 21 points on 7-of-15 shooting.
His three-pointer with 35 seconds left cut the LHS lead to 48-47. His three-pointer 30 seconds later would've won the game.
It missed. Appropriately, Green secured the rebound.
For these two players who first became familiar with each other during their days playing together at Southwest Junior High, Friday's showdown was just another in a long line of head-to-head battles.
"I don't know if it was just a coincidence or if it was meant to be," Green said. "But we went back and forth all night. Those are the types of games I love, and I know they're the types of games he loves."
For the fans, the match-up between Green and Wilson alone was worth the price of admission.
"That's two of the best point guards in the Sunflower League," LHS coach Chris Davis said. "It was really fun to watch."
To call it a duel between just two players would be unfair to the rosters of both sides. Free State's Chase Hoag came up with a couple of huge offensive rebounds and putbacks. When Green had trouble getting the ball thanks to the ferocious face-guarding of FSHS junior Marcus Spates, Lawrence's Lance Kilburn drilled a couple of jumpers to keep the Lions in the game.
Players and coaches in both locker rooms spoke only of a "total team effort" after the game. Both were right.
But in money time the only color that mattered was green. Green, as in LHS standout Dorian and the color on Wilson's uniform.
Expect much of the same next week at sub-state, where, if the bracket breaks right, these two could be in line to deliver an encore performance.
This time a trip to the state tournament will be on the line.
Copyright 2018 The Lawrence Journal-World. All rights reserved. This material may not be published, broadcast, rewritten or redistributed. We strive to uphold our values for every story published.