Photo Gallery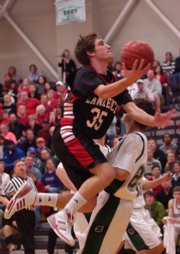 LHS boys vs. Free State
Go figure
23-16
The LHS boys' fourth-quarter scoring advantage
11
Points scored by the LHS boys from the free-throw line
6
Points scored by the FSHS boys from the charity stripe
9
Lead changes in the fourth quarter of the LHS-FSHS boys game
Even the mild-mannered John Schneider can get a little emotional sometimes.
The occasion that tripped the fiery trigger for Lawrence High's 6-foot-7 senior? Playing the final regular-season game of his career - in crosstown rival Free State High's gym, no less. And on this stage, Schneider wasn't about to let the Firebirds sweep the season series.
Schneider's inspired play Friday night led the Lions to a 51-47 come-from-behind victory that surely will go down as one of the top contests in the 24-game history of the city showdown series.
"What a great high school game," LHS coach Chris Davis said. "This is why you play. It just doesn't get any better than that."
A game that featured nine lead changes in the fourth quarter alone ultimately swung back in Lawrence's favor on Schneider's biggest play of the night.
With his team trailing 44-43 and just over a minute remaining, Schneider whirled inside, scored a layup and drew a foul, letting out a huge yell and slapping high-fives with teammates. It was the final lead change of the game.
"I wanted to go out with a memorable game," said Schneider, who also began the first quarter with an and-one layup, a bellowing scream and a chest bump of teammate Chebon Dawes. "I knew I had to be more of a vocal leader for my teammates and show my guys they could feed off of me."
Schneider finished with 16 points and six rebounds, but Free State guard Kris Wilson still had a chance to give the Firebirds the lead in the final seconds. Moments after burying a three to pull FSHS within 48-47, Wilson's last three-point attempt caromed off the backboard. Two free throws by LHS point guard Dorian Green accounted for the final margin and sent the Lions' fans into a frenzy on the Firebirds' home floor.
If not for a poor start by Free State, however, the outcome could have been different. FSHS shot just 1-for-11 in the opening quarter and appeared flustered by Lawrence's combination of a 2-3 and 3-2 zone.
"You never know how you're going to come out in these games," Free State's Weston Wiebe said. "Once everything settled down, I thought we played all right."
Despite trailing 11-3 after one quarter, Free State stormed back in the second, even taking the lead on Wiebe's steal at halfcourt and two-handed dunk. The Firebirds extended their advantage to six points in the third quarter, but Firebirds coach Chuck Law said his team made a crucial mistake while LHS sat back in its zone.
"We contemplated pulling them out and making them play man-to-man," Law said. "We kind of got greedy and hoped for an eight-point lead. In hindsight, I kind of wish we wouldn't have done that."
With Schneider standing tall inside and Green and guard Lance Kilburn hitting from the outside, LHS slowly made its move. At one point, Free State was forced to call a timeout following a Schneider score. To which Schneider walked back to the bench yelling, "They can't hold me."
"We don't have anybody who can physically match up with him," Law said. "When he comes inspired to play, he's the best big man in the league."
Wilson led Free State with 21 points. Green added 15 for the Lions.
When it was all over, Schneider - who directed his teammates on the floor all night - approached his coach.
"After the game, I got the biggest hug I've ever gotten from him," Davis said. "Just full of sweat. I'm going to have to go home and wash my shirt now. He was just so happy."
The victory marked the third in four games for the Lions (9-11, 4-7), who now carry plenty of momentum into next week's sub-state field.
Wiebe tried to put the loss in perspective for Free State (13-7, 7-4).
"Last time I checked, we're 1-1 for the season," Wiebe said of the two teams' win-loss record against each other. "We're not going to let it bother us because we need to look forward to sub-state."
Copyright 2018 The Lawrence Journal-World. All rights reserved. This material may not be published, broadcast, rewritten or redistributed. We strive to uphold our values for every story published.