Photo Gallery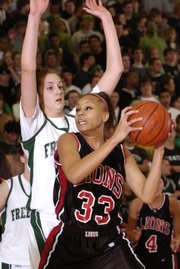 LHS girls vs. Free State
Go figure
14
First-half turnovers by the FSHS girls against LHS
7
First-half points by the FSHS girls (to 20 for LHS)
7
LHS girls who scored against FSHS
3
Female Firebirds who scored against the Lions
Not many girls basketball teams can stand up to Lawrence High's fullcourt pressure.
Certainly not injury-riddled Free State.
"It hurt us," Firebirds coach Bryan Duncan said of the Lions' pressure, "but it didn't kill us."
No, but it hurt real bad. Free State's 14 first-half turnovers were critical in the Lions' 50-36 triumph on Friday night in the FSHS gym.
Free State had twice as many turnovers as points in that fateful first half and lagged 20-7 at the break. Finally, when the Lions' lead grew to 44-24 early in the fourth quarter, Lawrence High coach Kristin Mallory abandoned it.
"When we were up by 20, I felt we should pull the plug," Mallory said. "But now I think we should have kept it on because when we went back into halfcourt (defense), we lost our intensity."
Free State didn't. The Firebirds might have been beaten, but they continued to attack. Ashli Hill and Chantay Caron, in particular.
Caron, a 6-foot sophomore, scored 10 of her team-high 15 points in the fourth quarter.
"In the first half, she made multiple mistakes," Duncan said of Caron, "but she grew up and bounced back. That's the Chantay we need all the time."
Meanwhile, Hill scored six of her 14 points as the Firebirds outscored the Lions, 16-13, in the fourth quarter.
Junior Taylor Manning finished with seven points, but that was it. Hill, Caron and Manning accounted for all the Firebirds' scoring. Ashleigh Allam didn't score, but had a team-high 10 rebounds.
At the same time, seven Lawrence High players scored with Tania Jackson collecting a game-high 18 points.
"Tania looked great," Mallory said of the 6-2 junior. "I think she was motivated because she read about how good our guards are."
At times, Jackson looked like a guard herself. In the first half, she stole an errant Free State pass at the top of the free-throw line and went coast-to-coast for a layup. And in the second half, she drilled a three-point goal.
Senior Danielle Bird added 11 points despite sitting out the first quarter. Mallory declined to say why Bird was held out the first eight minutes.
In the first meeting between the two city rivals before Christmas, the Firebirds had senior Sarah Craft and junior Maggie Hull starting in the backcourt. But Hull tore an ACL in late January, and Craft suffered a similar injury about a week later.
"I know they've had injuries," Mallory said. "I really feel for Sarah and Maggie. I wish they'd have been able to play with a full deck."
Hull underwent surgery Wednesday and attended Friday's game on crutches. Craft's surgery was earlier in the day so she wasn't on hand.
"I found out about Sarah a couple of days ago," Lions' junior guard Taylor Bird said, "but I don't think that had any effect on the game. I think we just came out and tried to win."
Even with Craft and Hull in the lineup in last December's meeting in the LHS gym, the Lions rolled to a 44-30 victory that ended the Firebirds' five-game win streak in the series.
Now the Lions (16-4) are hoping to make some noise in the Class 6A playoffs. They're the No. 2 sub-state seed and will entertain No. 7 seed Olathe North on Wednesday night.
"I think we're playing our best basketball of the season now," Mallory said. "We hit a stretch earlier where we got frustrated when things didn't go well. Now we're thinking about ourselves and not thinking about our opponents."
Free State (8-12) is the No. 5 seed and will travel to Olathe East on Wednesday. Winners will advance to the sub-state finals next weekend at Lawrence High.
"It wasn't a storybook ending for us tonight," Duncan said. "Sometimes that happens, though, and you have to deal with it. But the story's not over yet."
Copyright 2018 The Lawrence Journal-World. All rights reserved. This material may not be published, broadcast, rewritten or redistributed. We strive to uphold our values for every story published.