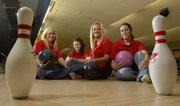 Rare are the high school athletes in the modern era who can lay claim to being pioneers of their sport. In football, basketball, soccer and most every other game, competitions began at the prep level ages ago.
Then there's bowling, a sport that didn't join the state ranks in Kansas until four years ago. So for the seniors of Lawrence High's girls bowling team - Mallory Hughes-Pfeifer, Jessica Wyatt, Tiffany Demaline and Becca Stack - they truly will go down as the first of their kind.
"I feel special to be a part of that first group," Demaline said. "I think we'll all remember that."
But this year's veteran bunch is about more than being an answer to a trivia question. They've got experience and leadership. They've demonstrated poise and discipline. They've even got a bowler, in Demaline, with a perfect score to her name and an individual state title.
The only thing missing for the class of 2008 is a team championship.
With three weeks remaining in the season, the seniors - who make up four of the seven varsity members - and their coach are more certain than ever that this could be the year the Lions finally break through.
"When the season first started, we sat them down and asked them 'What are your goals?'" first-year LHS coach Brandi Perry said. "Every single one of them said they wanted to win state. For those four seniors, this is their last chance. LHS has never won that state championship before, and I think that this group really has what it takes to do it."
Last year, the Lions finished fourth at state.
"Everyone else has graduated, so really, it's kind of our year," said Stack, who actually joined the team as a sophomore. The three other seniors bowled for LHS as ninth graders in junior high. "We have the talent, so we want to win state."
In order to get that opportunity, the Lions will need to finish in the top three at their regional meet, which has gotten more competitive each year as teams have added bowling to their athletics slate.
Only 12 of the 27 bowling teams in Class 6A advance to the state tournament.
LHS also will need contributions from all of its seniors, each of whom brings something different to the team dynamic.
Stack said she and Hughes-Pfeifer were the jokesters of the group who tried keeping the mood light-hearted. Perry said Demaline's demeanor was the most serious, and Wyatt was laid back and quiet.
"But all four of them do a great job of supporting each other," Perry said.
Added Wyatt: "Each one of us has different personalities, but when we get together for bowling time, all that matters is how we do as a team. Even though we're completely different, we don't focus on outside stuff."
For Perry, the senior class has been a blessing, helping her make a smooth transition in her first season as their coach.
"They know the routine," Perry said. "They know what we're going to be doing everyday. Any time I have any questions, they have that experience to tell me so I can learn from them."
The seniors also said they realized the time they had left was precious, so they were trying to enjoy the final few weeks of the season with their teammates.
"It's fun," Hughes-Pfeifer said. "There's three weeks left, and it's going fast. It's been completely different knowing that we're the seniors, though."
Hughes-Pfeifer said part of being close to the end of her career was dealing with a sense of urgency to finally win that elusive state title.
That holds especially true for this year's seniors, who say they often worry about what could become of the girls bowling program once they leave.
With just three other girls out for the team - sophomores Alexah Gudenkauf and Danielle Husted and junior Stephanie Reed - there is the possibility that the Lions won't be able to field a varsity team next season.
Perry said she planned to do some recruiting to drum up more interest, and added that this year's seniors certainly had left their mark.
"Our girls team is a small team this year, so the other bowlers look up to the seniors," Perry said. "They're like 'What are we going to do next year?' Hopefully by watching them and their leadership skills, that's something they can pass on to the group for next year."
Copyright 2018 The Lawrence Journal-World. All rights reserved. This material may not be published, broadcast, rewritten or redistributed. We strive to uphold our values for every story published.