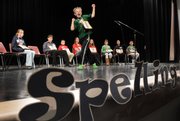 The first and one of the youngest spellers of the Douglas County Spelling Bee became the bee champion Saturday.
Ten-year-old Isaac Ward won with the word "hysterical."
The word seemed to match his level of excitement throughout the bee at Southwest Junior High School, where he had a flawless performance.
He said it felt good to win.
"Goodness all the way," he said.
His win came after a dramatic pause when second-place winner Christopher Greenfield's spelling of the word "unprincipled" was challenged by members of the audience.
It was disputed whether he spelled "unprincibled" or "unprincipled."
The three judges - two teachers at elementary schools and one retired teacher - had to listen to a recording of the answer repeatedly in another room as Isaac, a sixth-grader at Hillcrest School, and Christopher, a fifth-grader at Prairie Park School, waited.
They sat in the middle of the empty row of 11 chairs in which they beat out the rest of their competition: fourth- to eighth-graders and spelling champions from their own public or private schools.
They fidgeted and chatted occasionally, but mostly waited and wondered what the judges would decide. So did the crowd.
Everyone fell silent when Deborah Summers-Norwood, a teacher at Schwegler School and coordinator of the spelling bee, announced the word was misspelled, but Isaac had one more word to try to claim victory.
Summers-Norwood said this is the first time an incident like this has happened in her five years coordinating the county bee. It's also the first time she's seen such young students take first and second place.
Isaac will advance to the regional spelling competition on March 15 at Washburn Rural High School in Topeka. The winner from the regional competition competes in the Scripps National Spelling Bee.
"I'm going to keep studying the Scripps thing (word list) with the hopes that's what it's going to be next time and cross my fingers," Isaac said.
A new development this year is that to move on to the regional level in Topeka, schools have to pay a registration fee with Scripps. Summers-Norwood, who won't be returning for a sixth year as the coordinator, said schools are having a difficult time paying the fee. She said she expects to lose two or three schools because of the new rule.
The Lawrence Journal-World sponsors the county bee.
Copyright 2018 The Lawrence Journal-World. All rights reserved. This material may not be published, broadcast, rewritten or redistributed. We strive to uphold our values for every story published.