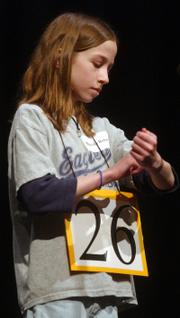 Miranda Rohn was a little morose Saturday, but that wasn't the word that knocked her out of the Douglas County Spelling Bee.
Miranda, a Broken Arrow School sixth-grader, was runner-up in the contest of 29 students representing elementary and middle schools in the county, when she added an extra "e" to "vigilante."
The competition ended when Austin Vickers correctly spelled the word "ablution."
"That's it, you're our man!" said Karen Cochran, a West Junior High School teacher who pronounced the words for the students.
"I'm pretty excited about this," said Austin, an eighth-grade Eudora Middle School student.
He'll go on to the state spelling bee March 24 at Washburn Rural High School in Topeka to compete with winners from other counties across Kansas.
Moments were tense during Saturday's competition, even coming to a halt at one point when one of the contestants threw up on stage.
"This is a first," said Deborah Summers Norwood, spelling bee coordinator.
But after the mess was cleaned up, the words continued to get harder and the students began striking out faster.
Some students took their time and used their fingers to write the words on their forearms before spelling them out loud; others just took a stab at it.
When it got down to Austin and Miranda, they went through about nine rounds of misspellings, including words "paroxysm," "despotism" and "quadruped," before the winner was announced.
"I feel kind of disappointed that I didn't win," said a teary-eyed Miranda after the contest.
But both her mother and teacher, Mindy Stahmer, had glowing smiles on their faces.
"She studied her heart out, so I am glad it paid off," said Stahmer, one of three spelling bee judges.
The Lawrence Journal-World sponsored the event.
Copyright 2018 The Lawrence Journal-World. All rights reserved. This material may not be published, broadcast, rewritten or redistributed. We strive to uphold our values for every story published.