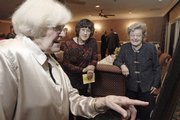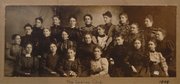 For most of Danny Drury's life she was known as "Mrs."
The 87-year-old Lawrence resident grew up in an era when women were identified through their husbands.
"We didn't use first names until the '50s or '60s," she said. "People went by their married name. I was always Mrs. Drury."
Opportunities for women outside the domestic realm, including education, were slowly growing, but not fast enough for women like Drury. In 1949, she became part of a steadfast Lawrence tradition to "stretch her mind."
In 1878, a group of young Lawrence women started the Zodiac Club, a literary and educational study group that delved into various topics. Some of the founders were survivors of Quantrill's Raid.
Over the years, little has changed about the group's purpose.
"I think we're one of the few ladies clubs left that do our own programs," Drury said. "The club chooses a topic, and there's a committee that figures out what the program might be for the year. Then it's like doing a term paper for college. So it stretches your mind a little bit."
Drury was recognized Tuesday as the longest-serving member of the club during a 130th anniversary celebration at the Lawrence Country Club.
In the beginning, the club would select a textbook to read from cover to cover as a group. They took it seriously. There were no refreshments and few distractions; they would quiz each other.
Club historian Janet Roth, who joined the group in 1987, said she came across some historical facts at the Spencer Research Library, including an early example of how serious the club was about learning. In 1899, the president of the group didn't think that the women were taking their current subject, the history of Italy, seriously so she gave them an exam, Roth said.
"This was their chance to learn, and they didn't want to mess it up," Roth said.
Back then, women evidently were able to hire help so they could meet weekly outside the home, Roth said. Today, more women work outside the home, and it can be difficult to find child care.
While the group doesn't meet as often, the structure hasn't changed much.
Members vote on a topic, and then each member chooses a subtopic that they will write a research paper about and present to the group. Currently, the club is studying the 1920s.
Although members spend a lot of time researching, they haven't been able to discover exactly how the name Zodiac came about. Perhaps, Roth said, it's because the club started with 12 members. She also agreed with a definition that member Jo Price found from the late 19th century. It stated that "Zodiac" was associated with new discoveries and an acknowledgment of worldwide philosophers, philosophies and forward thinking.
"They wanted culture, and women at that time had little opportunity for higher education," Roth said.
Roth's grown children have compared the club's research work to a master's thesis. But, Roth said, there isn't as much pressure.
Roth comes from a family of educators. She worked at Kansas University's Center for Research on Learning for several years.
"I love going to the KU library and looking in the stacks," she said. "I love that."
Roth said the club is for women who like to do research and have time to do it. The club is made up of women from various backgrounds and education levels. She said some women start the group young and leave for work or to care for children, but may return after retirement.
Roth said she wonders whether study groups will survive the next generation.
For her, she said, "I think it makes me appreciate what women through the years have done to keep them stimulated with learning. All of us will stay younger if we keep mentally stimulated."
Copyright 2018 The Lawrence Journal-World. All rights reserved. This material may not be published, broadcast, rewritten or redistributed. We strive to uphold our values for every story published.