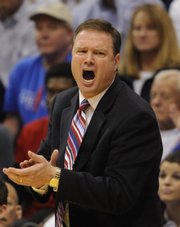 Kansas University basketball coach Bill Self has realistic expectations for his unranked, 8-3 Jayhawks entering tonight's game against Albany, and the rest of semester break.
"Our deal is ... as Danny Manning said the '88 motto was: 'Life by the yard is hard. Life by the inch is a cinch.' We just need to improve a little bit each and every day," Self said.
At 8 tonight he's seeking a better effort — and a different result from KU's last game — an 84-67 loss to Arizona on Dec. 23 in Tucson.
"Games are a part of getting better," Self said.
His Jayhawks, who have practiced five times since returning from a three-day Christmas break, play host to 8-4 Albany of the America East Conference tonight and powerful Tennessee on Saturday.
"I'll be excited about Saturday's game like I'm excited about Tuesday's game," Self said. "The last taste I have in my mouth now is getting outscored 26 points in the last 19 minutes of a half (at Arizona). That hasn't happened in a long time.
"The last taste I have in my mouth is a negative taste. Hopefully the players are excited for the next opponent. It's the way it should be in all sports."
The Jayhawks, who received zero votes in both the AP and USA Today/ESPN polls on Monday, say their focus is on Albany, a team off to its best 12-game start since becoming a Division I program in 1997.
"I haven't heard anything about Tennessee yet. Nobody has mentioned it," KU sophomore center Cole Aldrich said. "We are focused on Albany now because they can beat us. Right now I'm trying to figure out how to guard Gifford in the post."
Brett Gifford, a 6-foot-11, 260-pound junior, averages 4.8 boards and 2.1 points per game. The Great Danes — who have lost at Villanova (78-60) and DePaul (75-64) — have double digit scorers in sophomore guard Tim Ambrose (12.8 ppg), freshman guard Anthony Raffa (11.9) and junior forward Will Harris (10.3).
"They are a good team and capable of beating us," junior guard Sherron Collins said. "I think the loss (to Arizona) really helped us. After that game everybody went home with a bad feeling in their mouth. We came back and have been working hard at practice. We know we can build off things from that loss."
Freshman guard Tyshawn Taylor said the Jayhawks remain a work in progress. KU is a team searching to find its identity.
"Coach was talking to us yesterday about what we can hang our hat on. It's not real clear now what that is," Taylor said. "We are not the best defensive team. We shoot the ball pretty well, I guess, but I'm not sure that's something we can hang our hat on. Our shots will not always be there.
"I don't want to use youth as an excuse, but we are a young team," Taylor added. "We've had some great practices since we've been back. I feel we are headed in the right direction. Hopefully we can find it (identity) in the next couple games."
Tough taskmasker Self assessed his squad's first semester performance.
"I never look at it saying we've got to be at a certain place from a record standpoint, but if you told me before the season we'd be 8-3, I'd say I would be disappointed in that because theoretically we've only played one road game," he said, mentioning Sprint Center losses to UMass and Syracuse.
"We have less margin of error in the future because we lost one game we had no business losing (UMass). We are two possessions from being 10-1. I think we've been up and down like I thought we would."
Copyright 2018 The Lawrence Journal-World. All rights reserved. This material may not be published, broadcast, rewritten or redistributed. We strive to uphold our values for every story published.