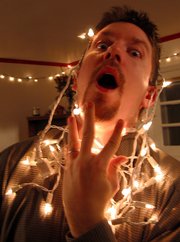 The holidays are bound to provide many photo opportunities. No matter what brand of camera you have, there are always ways to improve your chances of taking better photographs and documenting the season. Here's my holiday photography tips list.
• Make sure your batteries are charged. When I cover assignments for the newspaper, like graduations or school performances, I hear a lot of people exclaim, "My camera battery is dead!" Charge batteries BEFORE your family gathering and, if possible, have a second battery available.
• Most cameras automatically activate the camera's built-in flash when you take photos in low light. This results in unflattering light and leads to the dreaded red-eye. During the holidays, the ambient light from candles, Christmas lights, fireplaces, etc., can be wonderful illumination to catch the warmer mood of the season. Turn off your flash and experiment with low-light photography. Placing the camera on a small tripod or a flat surface will help steady the camera for the longer exposures. Don't forget to use the self-timer for group shots so you can get in the photograph.
• The majority of photographs taken during the holiday season are indoors. The best lens for these situations is a wide-angle. If you already own a point-and-shoot camera or a single-lens reflex, plan on using the widest position of your zoom lens for the majority of your shots. If you are in the market for a camera now, look for models that feature a respectable wide-angle lens. I prefer a wide-angle lens that is the 35 mm film equivalent of a 28 mm lens.
• Mark the occasion of a gathering or special event by photographing everyone in attendance. I once invited friends to a party and slideshow, and I set up a white sheet backdrop and took portraits of everyone. Staging or posing photographs of family and friends can be a great way of documenting family gatherings and festive events.
• Plan to create a book or post an online gallery of your holiday photographs. Intending a project in advance of holiday gatherings and events will give you more reasons to use your camera. The result will be a collection of images that you can share with family and friends. For more information on creating a do-it-yourself book of photographs, go to this story.
Copyright 2018 The Lawrence Journal-World. All rights reserved. This material may not be published, broadcast, rewritten or redistributed. We strive to uphold our values for every story published.