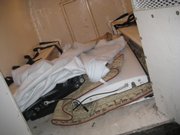 Lawrence police returned several stolen tailgates to their owners early Friday morning after locating three male suspects with a truck bed full of tailgates.
Police received a call about 1 a.m. from a resident in the 1600 block of West Third Street who witnessed the theft of a neighbor's tailgate. Capt. Tarik Khatib of the Lawrence Police Department said officers were able to find a vehicle that matched the description given by the witness.
Police said they interviewed the suspects to find area trucks with stolen tailgates. No arrests have been made yet.
"We're trying to figure out where they all go," Khatib said.
He said that tailgates were typically stolen and then sold on the black market. A search on the Kansas City, Mo., Craigslist yields hundreds of results for tailgates, ranging in price from about $30 to $300.
Trey Meyer's truck was one of several that Lawrence police located without a tailgate. The Lawrence resident had left his white Chevrolet 1500 in the parking garage near Ninth and New Hampshire streets Thursday night. About 1:30 a.m. Friday, he received a call from police dispatchers saying his tailgate had been recovered.
Meyer said, "I got to thinking, 'Is it the economy? Is there a market for tailgates now?'" He said that even though he was annoyed by the situation, he felt fortunate that nothing else was taken.
"I might give thought to a tailgate lock," he said, "but I'll probably practice not leaving my truck in the garage downtown."
Lawrence police officers Adam Heffley and Rob Murry helped reattach Meyer's tailgate to his truck. Both officers said the theft of tailgates is a fairly new problem locally.
Police spokeswoman Kim Murphree said thefts also were reported in the 200 block of Arkansas, the 300 block of Maine and at Motel 6, 1130 N. Third St.
Khatib said police have received several reports in the last few weeks about stolen tailgates. He said Friday morning's tailgate thefts could be linked to other recent events.
"We'd like to fully investigate the circumstances and then present it as a package to the district attorney to determine charges," Khatib said. He said the investigation would likely take a few weeks.
Vehicle owners whose tailgates are missing are asked to call Douglas County dispatchers at (785) 832-7509.
Copyright 2018 The Lawrence Journal-World. All rights reserved. This material may not be published, broadcast, rewritten or redistributed. We strive to uphold our values for every story published.