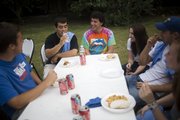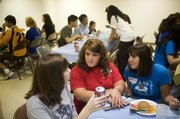 It might start with a casual meal. Then maybe a weekend date. And pretty soon, you're hooked.
You can't imagine your college life without that certain something - church, synagogue, youth group, mosque or other outlet to celebrate your religion.
Local places of worship aren't oblivious to the number of students who recently descended upon Lawrence, ready to start classes at Kansas University. And for many of those churches, recruitment during the months of August and September is crucial to keeping their membership numbers up.
"We know that there are a lot of students looking for a Christian community, and we want to be able to let them know that we are a community available for them to join, to have fellowship and to grow in," says Tony Bedora of Campus Christians. "Also, most students will make their commitments at the beginning of the semesters, so getting them to commit early to something like we have means that there is a better chance that they will stay through their time at KU."
To get attention, groups like Campus Christians, as well as brick-and-mortar places of worship, will hold barbecues, pancake breakfasts and other meals in addition to taking out ads in campus publications and setting up booths at KU information fairs. They set out banners, send out information and do what they can to get their name on students' lips.
"It's been said that essentially you have 30 days," says Alan Estby, campus pastor for Immanuel Lutheran Church & University Student Center, 2104 Bob Billings Parkway. "Within the first 30 days, students are pretty well checking things out and determining what they are going to be using their time for. And so we try to make those contacts within the first 30 days ... we actually aim for the first two weeks."
Making contact
For Immanuel Lutheran and Estby, making contact is all the more simple thanks to other churches. The church sends its information out to Lutheran churches throughout the region to let its youths know about its presence right across the street from KU's Daisy Hill, home to many residence halls. It also obtains e-mail addresses and phone numbers for students involved in their home churches.
Estby estimates he has about 425 students who have made contact with the church in his database. He says that the church's efforts, including a free barbecue tonight, an information table at KU and contact made with state churches, bring 200 students or so through the church's doors.
The Rev. Steven Beseau of the St. Lawrence Catholic Campus Center is also able to recruit high numbers through a multi-pronged approach. The center, which estimates there are about 4,000 Catholic students at KU, is able to make contact with 350 to 650 incoming students each year.
To do this, the center focuses on sending its information to students at Catholic high schools in Kansas City, Wichita and St. Louis during the summer before the school year begins. It also holds a barbecue and a retreat and makes an effort to have each student who registers with the center meet with one of the center's staff members, one-on-one. The center's location, 1631 Crescent Road, doesn't hurt it either as it is a stone's throw from Daisy Hill.
"We have a great advantage," Beseau says. "We're right next to campus, and we probably have 1,000 or more students walk through our sidewalk every day to get to class from the dorms because it's the quickest way."
Location and its designation as a meeting place for Jewish students also helps KU Hillel, whose headquarters inside a Victorian house at 940 Miss. puts it right in the heart of an off-campus student neighborhood.
"I think because we're in the heart of it," says Malinda Kimmel, Hillel's director of engagement. "I think that really helps."
But that doesn't stop Hillel from working to bring in students with a special Crimson and Blue Shabbat and a Heatin' up with Hillel party Thursday at the Granada, 1020 Mass.
First Christian Church, 1000 Ky., also benefits from its location near off-campus student housing, rolling out a banner welcoming students out front.
"(The location) is particularly beneficial since gas prices are high, so a lot of students are sensitive to stay closer to campus or walk," says the Rev. Randy Beeman, the church's senior pastor. "I think also the traffic patterns along Kentucky help us. We are very visible for those on campus."
Away from the action
Some places of worship farther away from campus take to working with organizations closer to KU to attract students' interest. For many churches, that comes courtesy of Ecumenical Christian Ministries, 1204 Oread Ave., which works with several churches and provides information about those churches and their denominations at an information table inside, says the Rev. Thad Holcombe, ECM pastor.
West Side Presbyterian Church, 1024 Kasold Drive, is one of the churches with ties to the ECM. Pastor Bill Woodard says though his church is far from campus and its 120 members are composed of mostly folks well out of college, even it does see a few graduate students come through its doors.
But, he says, the church doesn't actively seek student members - no barbecue, no big sign, no information sent out to other churches. Woodard says, however, the church would be delighted if students did find it all the way out on Kasold.
"Our target audience is older adults ... but we have several people who are on the board at Ecumenical Christian Ministries, and so that's how we support the students who come to town," Woodard. "When most young people come here, they just say, 'There aren't any young people,' and it's hard for them to relate."
Copyright 2018 The Lawrence Journal-World. All rights reserved. This material may not be published, broadcast, rewritten or redistributed. We strive to uphold our values for every story published.