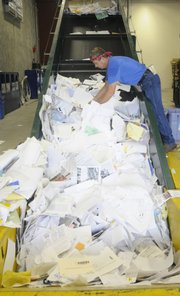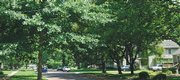 Welcome to our ongoing project, LJWorld.com/Green. Here you can find tips on how to make your life environmentally friendly and read stories about what others in the community are doing to live a more green lifestyle. Eat local, conserve resources, be green.
Jayhawks may bleed crimson and blue, but recent initiatives around Kansas University's Lawrence campus are hoping to make students and faculty green.
With a constantly expanding recycling program, a fledgling sustainability center and growing student movements around campus, living a environmentally friendly life at KU is slowly moving from fringe movement to standard operating procedure.
Jeff Severin, director of the Center for Sustainability, said his organization has acted as the conscience of the university. While not super-visible, he and his staff worked behind the scenes in an effort to play up the campus' need to think about the future.
"A lot of it is education," he said. "Teaching faculty and staff to look at issues affecting our campus."
And while the term sustainability is vague - "everyone seems to have their own definition" - Severin said he tended to think of sustainability as a mix of environmentalism, economic planning and social responsibility.
For Severin, it's all about teaching people to be responsible, especially by reducing the amount of waste each individual person produces. Included in that list: Making sure staff turn off lights in unused rooms, water conservation, recycling, using public transportation, involvement in local volunteer groups and eating local.
"Unfortunately, it's not very visible what we do," he said. "So it's kind of hard to see what efforts we're making."
The most visible result of the center will be a rain garden, Severin said, slated to be built during the spring 2009 semester. The garden will collect water runoff from the new recreation expansion planned. That water would then be used to irrigate a garden of native plants.
Recycling
While campus recycling has a much more storied past - some sort of recycling has been going on at KU since the 1970s, compared to the center's 2007 inception - those involved say the demand for more recycling opportunities is constant.
KU Recycling has various tubs in nearly every building on campus, collecting everything from newspaper to cardboard to plastics. Student workers then collect the tubs once a week, where they are taken to the center's baling facility in the Facilities Operations building.
Celeste Hoins, director of KU's recycling center, said they regularly receive requests to expand recycling opportunities.
"We're always getting request for new locations," she said.
Coupled with a recent Kansas Department of Health and Environment grant allowing KU Recycling to ramp up its deskside office paper recycling, Hoins said she and her staff manage to keep busy.
That's partly because the center has begun accepting old office furniture. Over the past several months, Hoins said, more than 16 tons of furniture have been turned in.
Youth movement
Students are showing equal verve in the increasingly popular "green" movement.
Cecilia Stumpff, a senior in environmental studies, has worked for KU Recycling for the past year after she transferred from Pittsburg State.
During that time, Stumpff said it was encouraging to see a national movement swing toward taking better care of the environment. Even around campus, she said, she was starting to see a difference.
"It's great," Stumpff said. "Every day I see people doing more things. We (recycling) are growing all the time."
Copyright 2018 The Lawrence Journal-World. All rights reserved. This material may not be published, broadcast, rewritten or redistributed. We strive to uphold our values for every story published.