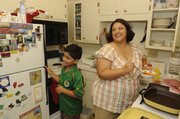 For new students arriving at Kansas University, it's tough enough to adjust to independent living, adapt to unfamiliar class schedules and find new places to eat and drink.
It's even more challenging for KU's 1,600 international students who represent more than 100 countries.
For most of them, like Xiao Liang from China and Susana Mariscal del Villar from Bolivia, the trip to Lawrence is their first outside their own country and culture.
On arrival at KU, these students must report to International Student and Scholar Services and complete a registration process that includes confirmation of obligatory health insurance coverage.
That involves making arrangements for measles, mumps, rubella, and meningococcal meningitis vaccinations, tuberculosis screening and English proficiency evaluations.
Then there's registration for classes, transport challenges and adjustments to the new culture.
"It's a lot to absorb when you're away from home and your country for the first time," said Melissa Rogers, part-time program coordinator for orientation at ISSS. She knows firsthand what it's like to make cultural adaptations; she studied in Brazil as part of her Latin American studies program and hopes to do further study in Argentina.
"I love this work," Rogers said. "I enjoy learning about other cultures through interactions with our international students. We're truly a world family here."
She organizes programs designed to give students opportunities to share their cultural gifts and customs with Americans, including the annual World Expo and Festival of Nations.
"Almost all international students come here expecting to experience different aspects of American life," Rogers said.
Missing home
Liang, a scholarship student in chemical engineering, is gradually adjusting to American life and has participated in and volunteered at ISSS events.
"Engineering helps me see things in an orderly fashion, but I try to develop my whole brain," she explained. "I read 'Odyssey,' 'Canterbury Tales' and 'Henry V' in the English honors class. They were very hard to read, but I learned a lot. I also go to dance classes."
She misses real Chinese food.
"We can cook in the scholarship halls, but it's hard to get all the right Chinese ingredients here," Liang said.
She also misses family and friends, but finds comfort in regular phone calls, e-mail and video contact. She sent pictures of Kansas snowfalls to China.
"It was strange and lots of fun to see so much snow," she laughed.
She, like other Chinese students, was distraught by news of the Chinese earthquakes.
"We were lucky. Our families were safe," she said.
She helped with collections around Lawrence to raise funds for the disaster victims.
"American people are very generous and kind," she said.
"There's a great community spirit at KU, and everyone is helpful."
Family life
Fulbright scholar Mariscal agreed. KU Fulbright Association members met her at the airport, paid for two days accommodation, helped her find suitable housing and provided furniture.
"Outgoing Fulbright scholars leave their furniture for incoming students," Mariscal said. "In my first weeks here, everyone was so kind. I realized it wasn't about things, it was about community and being cared for and comforted."
As a married student, she faced additional challenges.
"My son didn't speak English, and my husband didn't have American references to get a job or credit. We didn't have transport, and there are no buses on Sundays," she said. "We walked everywhere."
She enrolled her son in Hillcrest School.
"The staff was incredible," she said. "Joaquin mastered the language in three months, and my husband eventually found a job."
Mariscal's stay has been extended. She's completing a Ph.D., continues to give back to the community and received the 2008 Clark Coan International Student Leadership award. She organized a fundraiser for Bolivia's flood victims.
"People donated food, downtown merchants provided items for a silent auction, and Brazilian, Peruvian, Guatemalan and U.S. students led music and dancing. It was great fun. We raised over $1,000. If this is what nine Bolivians and two Brazilians can do with the help of their American friends, just think of what else we could accomplish," Mariscal said before a long pause.
"I thought I came to KU to learn about American culture; instead I'm learning about the whole world."
Copyright 2018 The Lawrence Journal-World. All rights reserved. This material may not be published, broadcast, rewritten or redistributed. We strive to uphold our values for every story published.