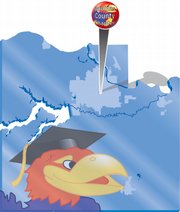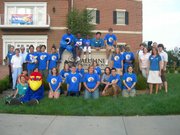 Los Angeles. Washington, D.C. New York.
All across the country, Jayhawks gather to keep the KU spirit alive for alumni. But what about those who stay here in Lawrence?
Whenever Keith Wood read the Kansas University alumni magazine or saw notices about the activities of other Alumni Association communities, he felt left out.
"I thought, 'Why isn't there a chapter here in Lawrence?'" he recalled.
So when he heard about an exploratory group forming last fall to explore that very possibility, he eagerly signed up.
"There was a group of us that got together for tailgate parties, and we thought, 'Why not do this so we can meet up and connect with other people?'" Wood said.
After its kick-off party in November, the Lawrence chapter officially got off the ground on Jan. 28. It now has more than 3,000 general members and 17 volunteer board members.
Heath Peterson, director of Kansas programs for the Alumni Association, is standing in as the local president until the chapter finds someone else poised for the challenge. He thinks it may have taken so long for a Lawrence chapter to be formed because "people may have thought there wasn't a need for it since they were always around it."
Chris Kaufman, chair of the young alumni committee, expands upon this sentiment.
"Any other alumni group has a watch party," he said. "Here, every bar you are at is a watch party."
But the wheels were set in motion three years ago when KU Alumni President Kevin Corbett put forward the goal of "turning Kansas Jayhawk Blue."
"We took the state, started west and have worked our way east with the more recent chapters," Peterson said. "The Lawrence chapter encompasses the entire Douglas County region," and Peterson believes its inside perspective into KU will make it uniquely suited to achieve its goals of strengthening the university through student recruitment, legislative advocacy and social networking opportunities.
Wood hopes the Lawrence chapter will bring people together as well as raise awareness about the university's activities.
"It's one of the reasons I really wanted to do this," he said. "We all live here, but do we really know what's going on at the university?"
To assist in local recruitment, the chapter intends to get the word out to Douglas County high school students about the Kansas Honors Program, a ceremony that honors high school students in the top 10 percent of their class. Each qualifying student is awarded an American Heritage Dictionary and a chance to receive a scholarship to the university.
On the governmental side, local alumni will get involved in legislative issues that affect KU through the advocacy group, Jayhawks For Higher Education. The Lawrence chapter's close proximity to lawmakers also will give them more opportunities to give voice to their cause.
As for social events, the chapter is eagerly preparing for the Lawrence Jayhawks Generations Picnic on July 28. This event will bring alumni together to welcome new Jayhawks to the university.
"We'd really like to create a community within a community," said Peterson, who hopes the chapter will appeal to "recent graduates whose social network decreases when people veer off after graduation."
Kaufman recalls that time of uncertainty well.
"I felt disconnected to the university in a way that's hard to put into words," he said.
Kaufman wants to bridge that gap for other recent graduates with social events such as watch parties, wine tastings and networking mixers that will allow young alumni to make professional connections with more seasoned graduates.
Wood, a board member, believes many KU alumni like himself have returned to Lawrence upon finding it an ideal place to raise a family.
Having lived in the Lawrence area for roughly 40 years, Wood considers himself an "adopted native."
"I love the community. It has better schools than anyplace else we found, and there's such a wonderful cultural environment here that the university helps sustain," he said.
"To me, there's an anthropological and tribal connection aspect to it. Why do people support a team, whether it's the Jayhawks or the Wildcats? There's a natural grouping that it speaks to."
Copyright 2018 The Lawrence Journal-World. All rights reserved. This material may not be published, broadcast, rewritten or redistributed. We strive to uphold our values for every story published.