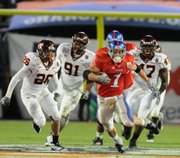 They seemed inevitable, really, these questions directed at Jake Sharp. With camera lenses, microphones and audio recorders swarming his space at Kansas University's football Media Day, Sharp figured it wouldn't be long before someone brought them up.
He barely had taken a seat in a front right corner of the Mrkonic Auditorium in the Anderson Family Football Complex when talk of him being the team's starting running back commenced. The questions hounded Sharp like a linebacker in dogged pursuit of a tackle.
"Do you feel you can carry the ball 25 times?" one reporter asked.
"Is this job at tailback already yours?" another inquired.
"What's your mentality knowing you're the guy right now?" a third press member queried.
That's what happens when your jersey number (one) finally reads the same as your spot on the running back depth chart just weeks before the first game of the year - particularly after the most successful football season in school history.
Holding down a starting offensive position second only to quarterback in the public-eye pecking order also tends to lend itself to these discussions.
Sharp's responses were humble and straightforward, traces of his Salina country roots evident.
"I can do whatever I'm asked to do," he said of carrying 25 times. "I wouldn't look for any one guy to shoulder the load," was his reply to being the starting tailback. "I'm going to do this to the best of my ability," he said of his mentality entering the season.
Frankly, Sharp would prefer to answer those questions with his play on the field. It's how he got to this position in the first place.
"Let me put it this way," KU coach Mark Mangino said. "He gives you everything he has, even on the practice field. He works so hard, at the end of practice, he's just fatigued. He's shot."
He's been outworking players since high school, where he rushed for 6,524 career yards and set a single-season state record with 63 touchdowns, winning a Class 5A state title at Salina Central High his senior season.
Since then, Sharp has had to bide his time, working diligently in the weight room and learning the offensive system behind seniors at KU. In his freshman season, he saw 21 carries while Jon Cornish started. Last year, Brandon McAnderson filled Cornish's void. Both seniors rushed for more than 1,000 yards.
Sharp finally got his first major opportunity as a sophomore last season in backup duty. He demonstrated a unique ability to slither through the line of scrimmage with deceptively quick footwork, scooting by would-be tacklers. As the team's No. 2 running back, he rushed for 821 yards and seven touchdowns, averaging just over 11 carries a game.
What's more, Sharp did it while often being one of the smallest players on the field. Listed at 5-foot-10, 190 pounds - which likely is being generous - he looks more suited for an athlete in one of his other favorite sports, freestyle motorcross.
"As an outsider, you certainly would be surprised just looking at him walk down the street," said John Reagan, KU's offensive line coach and run game coordinator. "But when you see what he does on the practice field, when you see the attention he pays to certain things and the competitive nature he has, it's not that surprising."
Chet Hartley, who is responsible for creating holes for Sharp to run through on the offensive line, said even he was stunned sometimes by what Sharp had been able to accomplish with his compact frame.
"You see him beside an offensive lineman, he just looks like a midget," Hartley said. "The kid, he works hard every day. He's got the strength, he's got the speed for sure."
Now, he's the most experienced tailback Kansas has left.
Sharp has appeared in all 25 KU games over the last two seasons with 950 rushing yards. No other running back on this year's team has played in one-fourth that many games or rushed for even 100 yards in a Jayhawk uniform.
In golf terms, consider Sharp the leader in the clubhouse - with one intense, grueling and competitive final round to go.
In the weeks leading up to the Jayhawks' August 30 home opener against Florida International, Sharp will have to use his sparkplug skill and knowledge of the playbook to earn the top running back spot. The addition of 6-1 running back Jocques Crawford - the reigning national junior college offensive player of the year - is expected to test Sharp. In the first week of team practices, Crawford already had begun splitting reps with Sharp and the first-stringers. Angus Quigley, a 6-2 junior listed as second on the depth chart heading into the fall, is in the mix for playing time as well.
Sharp said he was aware of Crawford's talent and didn't mind divvying up carries during games. By running a spread offense, Sharp said he actually expected several running backs to take handoffs, which is fine by him. He just wants to win. The same way he did at Salina Central and the same way he did at Kansas last year.
The questions about his mindset, his body and his competition probably will continue to surround Sharp until he proves himself in a larger capacity on the field.
For now, Sharp says he's ready to go in whatever role he is asked to perform. Even if he slips from the top of the depth chart, he'll be a key contributor in the backfield this year. And any slip won't be for lack of effort.
As Sharp put it, "I've never seen hard work do anybody wrong."
Copyright 2018 The Lawrence Journal-World. All rights reserved. This material may not be published, broadcast, rewritten or redistributed. We strive to uphold our values for every story published.