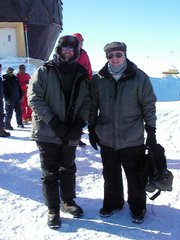 While it may seem odd to some that researchers from Kansas University are working in Greenland studying shifting ice, Chancellor Robert Hemenway says it makes perfect sense.
"That's where the cutting edge of research is," he said. "When you're a research university like KU, you do basic science."
Hemenway, along with Stuart Bell, School of Engineering dean, recently returned from the North Greenland Eemian Ice Drilling Site as representatives of KU's Center for Remote Sensing of Ice Sheets.
The center, funded through a $20 million National Science Foundation grant, uses remote radar sensing to study how ice sheets move along the bedrock in Greenland. Not only does this allow researchers to study how ice sheets are moving, Bell said, but also it helps researchers from Denmark who need the radar to find the best places to drill to retrieve an ice core.
The Greenland visit was funded in part through the University of Copenhagen, KU, the Danish government and the National Science Foundation.
About 50 people from KU - including faculty, researchers and doctoral students - are stationed in Greenland.
By studying the ice sheets, Bell said, scientists may eventually be able to look at patterns of weather in the past and use that information to give perspective on what currently is happening with the planet's weather.
Hemenway said he was pleased more attention could be brought to the Kansas researchers.
"That research site was filled with 25 to 30 people, most of them young people who believe enough in the pursuit of discovery that they're willing to be out there in the middle of a bunch of geodesic domes at the top of the world," he said.
Copyright 2018 The Lawrence Journal-World. All rights reserved. This material may not be published, broadcast, rewritten or redistributed. We strive to uphold our values for every story published.