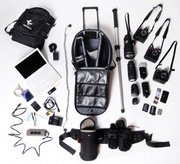 About this series
"Behind the Lens" is a weekly look at photography, written by Journal-World staff photographers. Have an idea for the column? Contact Thad Allender, photo director, at 832-6359 or tallender@ljworld.com.
Imagine, if you can, the looks on the faces of Travel Security Administration folks at the airport when all of these wires, cords, batteries and intricately designed and compact pieces of steel and aluminum roll through their metal detectors and flash up on their computer screens.
Traveling with all this "junk" can be exhausting and nerve-racking in such situations. While Journal-World sports editor Tom Keegan takes his time strolling to the gate, sipping his Starbucks triple caramel macchiato, I'm just one defiant look away from being tazed by airport security. All right, not really. In all fairness, I think it's only a double caramel macchiato.
In the inevitable instance of a bag check, it really only takes a few minutes of carelessly tearing apart my bag that I so meticulously packed the night before for everything to be cool again. The air eventually clears a bit, and TSA begins to believe me when I tell them that I'm a photographer. You may ask, "Why not just check the gear as to avoid all the hassle and undue stress?" To this I'll answer that I only needed to see a baggage handler throw a suitcase at and off the conveyor belt one time to swear against it completely.
It seems like I start each season with a few new gadgets designed to make my job easier and more efficient. Here is a list of everything in my bag or bags that I'll be lugging to each Kansas University football game I cover:
¢ Cameras: I use one Nikon D300, one Nikon D200 and one Nikon D2HS.
¢ Lenses: One Nikon 300 mm 2.8 lens, a Nikon 80-200 mm 2.8 zoom lens, a Nikon 17-35 mm 2.8 wide-angle zoom lens and a Nikon 50 mm 1.4 lens.
¢ Flashes: One Nikon Speedlight SB-28DX flash and one Nikon Speedlight SB-800 are used after the game, as flash photography is a no-no while the game is in progress.
¢ On-the-field accessories: One monopod (for the 300mm lens), backup Nikon Ion batteries and backup double AAs, a wallet of backup memory cards, a Nikon SC-17 flash sync cord, reporter's notebook, pens and a utility belt-style waistpack (not to be confused with a fanny pack) for gear storage.
¢ Off-the-field and editing accessories: One Tamrac roller bag (for getting all the gear to the game), one MacBook with all the necessary cords, one FireWire memory card reader, one Verizon wireless device (can get me connected to the Internet when a free wireless signal is not readily available), one Nikon MH-21 battery charger, one Nikon MH-18a battery charger, one iPod (music helps to drown out the press box noise while editing), and a Tenba laptop backpack for computer and accessory storage.
Thankfully football Saturdays are just around the corner, and on the bright side it looks as though the South Florida game in Tampa will be the only airborne trip of the regular season. However, if somewhere between Ames, Iowa, and Lincoln, Neb., you find me wallowing in a ditch under the weight of all this gear, I'd be much obliged if you'd lend a hand.
Copyright 2018 The Lawrence Journal-World. All rights reserved. This material may not be published, broadcast, rewritten or redistributed. We strive to uphold our values for every story published.