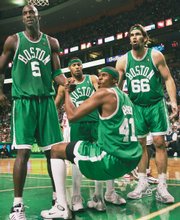 An NBA general manager in need of a 6-foot-11, 278-pound good-luck charm might consider giving free agent power forward Scot Pollard a call.
"I've been lucky enough to be in The Finals the last two years. You sign me ... you go to The Finals. That's the angle I'm using right now," said former Kansas University standout Pollard.
He earned an NBA championship ring with the Boston Celtics last season after playing for the runner-up Cleveland Cavaliers in 2006-07.
"If somebody needs a mentor to help teach young guys how to play, somebody with no need to complain about being on the court all the time, I'm the right fit," Pollard said. "It's what Boston was looking for last year. Now they are looking to go with heavy-minute guys (off bench)."
Pollard most definitely is not ready to give up basketball at age 33. In fact, the man who played in just 22 games for Boston last season and 27 for Cleveland the year before because of injuries, feels rejuvenated following last spring's reconstructive surgery on both ankles.
"I have the itch to play. Winning the championship ... inside my head it's made me want to play more," said Pollard, who lives in Lawrence in the offseason with wife Mindy and daughters Lolli and Tallula and son, Ozzy.
"I figured if I ever won a championship I'd be done. Now that we've won one, I'm saying I want to win one and be part of it on the court."
Back on his feet, Pollard believes he'll be in tip-top shape in September - in time for training camp if an NBA team decides to give him a chance. He's not ruled out the possibility of playing in Europe.
"It was one of the toughest things I've had to do in my life, not run for 4 1/2 months," Pollard said. "If anybody saw me jogging the last couple of days in Lawrence ... it was old-mannish jogging," he cracked.
Pollard's sense of humor has made him a popular player during his NBA stops in Detroit, Sacramento, Indiana, Cleveland and Boston.
In Beantown, he starred in a series of Comcast TV shorts entitled "Planet Pollard. Type in Planet Pollard in the youtube.com search engine and you'll find some of Pollard's pieces, including one in which he visited a Boston bar to interview fans the night of KU's victory over Virginia Tech in the Orange Bowl.
Pollard was able to witness KU's other big sports highlight of the 2007-08 school year in person - the Jayhawks' overtime victory over Memphis in the NCAA title game in San Antonio.
"I was unlucky enough to have surgery. I was in a boot and couldn't travel with the (Celtics) team. I said, 'If I can't travel with the team, I'll go to San Antonio,''' Pollard said.
KU coach Bill Self has told the story of Pollard saying he was as happy watching KU win it all as if he was on the court winning the title himself.
"I went up to him that night he had the get together (party at hotel after victory)," Pollard said. "I went up and told him there were a lot of guys on KU teams that 'coulda, shoulda woulda' (won titles but didn't). I said in my small way I feel part of this, absolutely.
"I'm so glad he decided to stay," Pollard added of Self, who declined an offer to return to coach his alma mater, Oklahoma State, after the season. "He is a great coach. I'm excited about the future."
KU's future and his own.
"I will not play until I'm 40. I'll be lucky if I'm able to walk when I'm 40," he said.
Copyright 2018 The Lawrence Journal-World. All rights reserved. This material may not be published, broadcast, rewritten or redistributed. We strive to uphold our values for every story published.