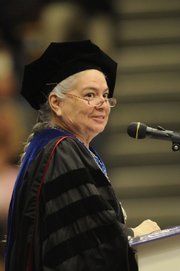 The Board of Regents at Haskell Indian Nations University wants to oust President Linda Warner who was hired just more than a year ago.
In a letter, the 15-member board asked the Bureau of Indian Education to investigate possible irregularities in accounting, procurement and hiring practices at Haskell under Warner's supervision.
"As a board, we are hearing more and more about hiring practices. There also seems to be some issues with procurement," said George Tiger, vice chairman of the board. "When you have so many faculty, staff and students coming to the Board of Regents with their concerns - strong concerns - that kind of sends a red flag up."
Earlier this week, Prairie Band Potawatomi Nation, Mayetta, which has about 5,000 tribal members, passed a resolution supporting the regents' letter. The Kickapoo Tribe in Kansas passed the same resolution Thursday. The Kickapoo Tribe, Horton, has about 1,600 members.
"We need to get this resolved immediately before school starts (Aug. 20). The Bureau of Indian Affairs needs to act urgently," said Steve Cadue, Kickapoo tribal chairman.
The Iowa Tribe of Kansas and Nebraska, which has about 4,000 members, also plans to pass the same resolution during a meeting next week.
Warner's office referred calls to the Bureau of Indian Education. During past interviews, she has denied allegations outlined in the letter.
Nedra Darling, a bureau spokeswoman, said a team of Deputy Assistant Secretary for Management staff did an on-site review of human resources, acquisition and finance June 17-19. The review was done in preparation for minor personnel system changes already scheduled to take place and because of the regents' letter sent May 29.
"I am sure anything that she did is part of that review, so it is looking at her, but it also came at the same time that they were sending out this team to go out and look at the areas of the management function," Darling said.
Although the board called for the immediate reassignment of Warner to another facility, Darling said Warner is still president. She said results of the review would be presented to regents at its meeting Oct. 14-17.
"We care about a lot of things here. We care about the education of our young people and older people that are going to Haskell," Darling said. "It's a great opportunity for people to go to school and continue their education at the higher level, and when you hear anything coming back of course it is taken seriously. If there are issues at hand and people are making them noted, then they will be looked into."
Tiger, who has been a regent for 16 years and was a member of the first graduating class of Haskell Junior College, said the board is skeptical.
"History shows that the bureau a lot of times had tendencies to sweep things under the carpet when it came to their personnel or their employees. That's where the concern lies," he said.
Copyright 2018 The Lawrence Journal-World. All rights reserved. This material may not be published, broadcast, rewritten or redistributed. We strive to uphold our values for every story published.