Chat with Haskell President Linda Warner
December 6, 2007
This chat has already taken place. Read the transcript below.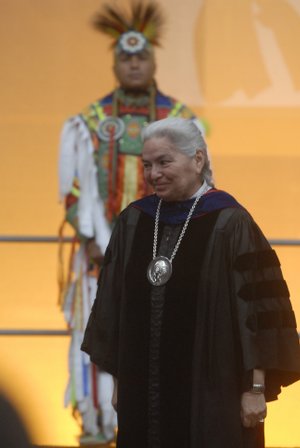 Linda Warner, the new president of Haskell Indian Nations University, is ready to make changes - something not taken lightly at a 123-year-old school where tradition runs deep. She said the university had become "old hat" about how it accomplished things. "I think people thought it would be business as usual, and I think it is business as unusual," she said, laughing.
Moderator:
Good afternoon. This is Karrey Britt, Journal-World assistant assignment director. Our guest today is Linda Warner, president of Haskell Indian Nations University. Welcome President Warner. She is here with her executive assistant Lori Tapahonso.
Linda Warner:
Thanks for the opportunity to visit with you this afternoon.
Moderator:
We have several questions and a short amount of time. So let's go right to the readers.
Dr. Warner. welcome back to Lawrence! does your experience working at KU prepare you to be a better school president and will you increase partnerships between Haskell and KU?
Linda Warner:
My experience working at the University of Kansas provided me the opportunity to make lasting professional and personal friendships that I believe will work to benefit Haskell. For example, we have expanded our Inter-instituional taskforce with different employees from Haskell so that there are more opportunities to make connections with KU. Also, our RED Center (The Research Evaluation Dissemination Center) has made several new partnerships with colleagues at KU.
Could you please outline your plans for the on-campus preschool at Haskell? Thank you!

Linda Warner:
The Little National Academic Center will move under the supervision of the Dean of the School of Education at the beginning of the new semester. This will allow Haskell to institutionalize some of the resources needed to deliver a quality early childhood program. The Dean of the School of Education will be able to coordinate both the LNAC parent committee and the School of Education advisory committee for program development.
Dr. Warner,
The Haskell student newspaper mentioned the possible installation of a fence - 10-foot with barbed wire - that would surround campus and then I read about Haskell creating only two entrances to campus. When will the Homeland Security site visit report be completed and what will Haskell do with Homeland Security's recommendations? Is Haskell required to implement whatever the report states?
Linda Warner:
The report by the Bureau of Indian Affairs' office of homeland security should be available to Haskell administration before the end of the calendar year. It is likely that the report will suggest several recommendations to improve our ability to safeguard our students and our employees. Each of the those recommendations will need to be weighed with regard to the cost-benefit for implementation and each of those recommendations will require resources. To my knowledge there are no additional resources attached to the initiative that requires this safety report of all Bureau of Indian Education facilities. Without knowing the specific recommendations from the report, it would be difficult to respond to the last question.
Dr. Warner, what can your average Lawrence resident do to show our support for Haskell?
Linda Warner:
Thank you for the opportunity to invite the Lawrence community to many of the volunteer activity and general public events on our campus. We offer many events similiar to those at the University of Kansas that are open to the public and free of charge. Those can be located on our website under This Week @ Haskell. We invite the Lawence community to join us at our varied athletic events as well. We have a basketball game on Saturday at 2:30 with Waldorf College in the Coffin Complex. This weekend the Lawrence community is hosting the junior olympics cross country event at Rimrock Farm. We have approximately 50 guests on our campus who will be participating in that event. We have various art shows, theatre events, poetry readings, performances and seminars. Of course each month we have a major Healthier Haskell event and for December, this event is Saturday at 9 am. Participants are asked to bring canned goods and a special invitation is extended to faith-based communities. To date, Healthier Haskell participants and teams have walked over 35K miles and we expect to be close to 50K miles by the end of the semester.
There have been several reported cases of Methicillin-resistant Staphylococcus aureus (MRSA) on the Haskell campus. A lot of students are concerned that they will be exposed to the bacteria. What ever happened to those students who have MRSA? Did they get sent home, or are they still walking around campus and going to class?
Linda Warner:
With each of the cases of MRSA reported on our campus the students were seen and treated in local medical facilities. Our staff has been in contact with the state and national Centers for Disease Control to determine the best course of action for warning our students and employees. We have broadcast the warnings and the preventative strategies on email and with posted notices throughout the campus. Students are following their doctors' advice as to class attendance.
How does Haskell compare to other tribal colleges and universities in terms of funding, graduation and retention rates, and recruitment?
Linda Warner:
Haskell and SIPI are funded directly from BIE which is inside the Bureau of Indian Affairs in the Department of Interior. The other tribal colleges and universities are funded from a different BIE revenue stream based on percapita enrollment. Then there are other tribal colleges funded totally by their tribe.
If you look at the statistics on enrollment, Haskell is the leader in terms of male enrollment within this group of tribal colleges and universities. Haskell has nearly a 50-50 enrollment for males and females; the other tribal colleges enroll more females by a significant percentage.
Our retention rates are impacted significantly by the few baccaleaurate degrees offered. Our students may choose Haskell for two years and then if there is not a four year program of interest, they would move to a regional college closer to home. It is difficult to get a real sense of our retention rate overall when we essentially have two different types of students who enroll (two year associate degrees or four year baccaleaurate degrees).
Recruitment activities are limited by available resources.
Moderator:
That's all the time we have. Thank you for coming in on this snowy day.
Linda Warner:
Thank you for this opportunity; I look forward to visiting with you again and hope to see your readers on our campus. Onward Haskell!