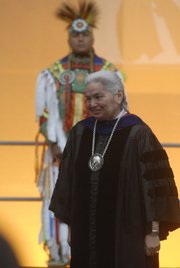 Haskell Indian Nations University's new president has big ideas for the university.
Just six months after arriving on campus, Linda Warner has completed a thorough evaluation of Haskell to determine its strengths and weaknesses.
Based on her findings, she is ready to make changes - something not taken lightly at a 123-year-old school where tradition runs deep. She said the university had become "old hat" about how it accomplished things.
"I think people thought it would be business as usual, and I think it is business as unusual," she said, laughing.
Warner, 59, a Comanche, was inaugurated Friday as the fifth president at Haskell since it became a college in 1970. About 600 people attended the ceremony, which included a formal presentation of Haskell's flag and the presidential medallion.
Ernie Stevens Jr., master of ceremonies and this year's Outstanding Alumnus, said Haskell can only benefit from Warner's leadership.
"Her integrity, her background and her resume speak for her," he said. "She's really created change that ushers us into this university era, and we've only just begun. You haven't seen anything yet as to what's to come at Haskell Indian Nations University."
Changes in store
Warner, who previously was associate vice chancellor for academic affairs at the Tennessee Board of Regents, already has made changes. Those include creating the Research, Evaluation and Dissemination (RED) Center, which will provide research support, and Healthier Haskell, a community program that promotes healthy lifestyles. She has made changes in food services such as taking regular soda off the menus, putting labels on food items and extending hours to help athletes.
The new Jim Thorpe Fitness Center opens today. She has hired a new full-time faculty member and implemented a new WinterCount reception to honor employees.
While she has made these changes and more, she has proposed a plethora of others. They range from adding a fifth baccalaureate degree in public health to increasing student fees to beefing up security to starting online programs.
"Not everybody is going to like all of the changes, and I am not surprised by that," she said.
Good reviews
But Xavier Barraza, Student Senate president and a member of the Board of Regents, said he is pleased with the changes so far.
"She is looking out for the university," he said. "For somebody who is as educated and strong as she is means a lot to Indian Nations. It's an honor to have her here."
The same sentiments are felt by Valerie Switzler, a senior from Warm Springs, Ore.
"She sets her standards high and compares us to universities like Kansas University. I like that," she said.
Margaret Stevens, a senior from Oneida, Wis., and daughter of Ernie Stevens Jr., said she was pleased with Warner's progress.
"We are like a big growing family and there's confrontation even in families," she said. "It's unavoidable if you want progress."
To move forward financially, Warner would like to tap into the resources of its alumni.
"Our tagline is the most recognizable name in Indian Country," she said. "Everywhere I go, I can stand up and say 'Haskell' and play seven degrees of separation."
Financing is a concern for Haskell administrators because its lifeline is federal funding. Haskell's budget has been about $9.1 million for the past three years, and it expects to receive about $600,000 more this year, an increase of about 5.5 percent. Warner said while funding is always an issue, how the university spends money is more important. She took more than 3,000 pictures of campus and uncovered hidden treasures.
"You would be amazed at the stuff that we have that we don't know we have," she said. "Some of that needs to be sorted out, so we are not buying things we already have. It's just a stewardship issue."
And as any new leader, she has heard criticism.
"I have noticed that people around here - those of them that are not quite as fond of me as my family - say I am running people off when in fact people are retiring. I think it is incredibly disrespectful to characterize their choice - a life's work - as getting run off."
And while there has been speculation that Warner might not be at Haskell for long, she said that's not true.
"I've got a lot of things that I want to accomplish here," she said.
Copyright 2018 The Lawrence Journal-World. All rights reserved. This material may not be published, broadcast, rewritten or redistributed. We strive to uphold our values for every story published.