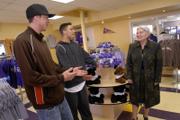 Linda Warner
Age: 58Family: Single with two sons, George Briscoe II, 40, of St. Louis, and Scott Briscoe, 36, Olathe; two grandchildrenEducation: Bachelor's degree, Northeastern State University; master's degree, Pennsylvania State University; doctorate, University of OklahomaExperience: Director of the American Indian leadership program at Pennsylvania State University, 1993-1995; program officer for education system reform with National Science Foundation, 1996-1998; research faculty in the Harry S. Truman Center for Public Policy at University of Missouri, 1995-2001; CEO of nonprofit agency in Milwaukee, 1999-2002; research faculty at the University of Missouri, 2002-2003; associate vice chancellor for academic affairs with the Tennessee Board of Regents, 2003-2007
A former admissions director at Haskell Indian Nations University has returned to lead the school.
Linda Warner, 58, said she was glad to be back in Lawrence, where she lived for eight years.
"I am just really amazed that I have this opportunity to come back and work with old friends both at KU and at Haskell," Warner said.
She was director of admissions at Haskell from 1981 to 1986 and was a faculty member at Kansas University from 1990 to 1993, when she also taught a course at Haskell.
Warner's first day on Haskell's campus was April 2, but she began working shortly after being named to the position March 8.
She released a list of "10 priorities for the first 90 days" while still associate vice chancellor for academic affairs with the Tennessee Board of Regents. Her last day in that position was March 27.
One of her priorities was a smooth transition. She worked with Venida Chenault and Marvin Buzzard, who were co-interim presidents.
Now, she is working on the other nine priorities, which are reviewing and assessing: student environment; retention of students and faculty; academic master plan; fiscal integrity; facilities and services; integrated planning, budgeting and evaluation; enrollment management; leadership; and extramural funding.
"I don't propose to come in and sort of unilaterally start changes until I know what's in place," Warner said.
The review-and-assess process includes collecting information from "everyone." Warner wants feedback from the community, students, faculty, Haskell Board of Regents, alumni and administrators.
"The changes that we will put in place will be a result of that 10-90 plan," Warner said.
Future guidance
Chenault said she thought the list was consistent with initiatives that the university has prioritized.
"I think what she is indicating in this plan is that these are the areas that we are going to focus on and to really do an analysis of what are strengths and weaknesses are and what the opportunities are," Chenault said. "I don't think she is saying that she is going to resolve each of these in 90 days. The work that is going to be done in the first 90 days is going to guide our future."
It's a future that Warner plans to be a part of. Despite having five jobs in 10 years, she doesn't plan to leave anytime soon.
"The Board of Regents and I had this discussion," Warner said. "I think both of us are comfortable that I will have a long and successful career at Haskell."
But it is Warner's experience that landed her the job.
Tom Dowd, director of the Bureau of Indian Education in Washington, D.C., hired Warner. In a statement he said Warner's "multifaceted experiences and accomplishments throughout her career make her the right person to lead Haskell on its mission."
Chenault also finds Warner's resume remarkable.
"I think what is impressive about Dr. Warner is the experience that she's had working with tribal peoples - whether it's been at the K-12 system or in the university system," Chenault said. "I think that breadth of experience is very well-suited to the university and our growth and expansion in the future."
Career moves
Warner began her career as a second-grade teacher in northeast Missouri. Moving the next year to the high school as an English teacher, she worked in public schools in Missouri for five years. In 1974, she moved to Sitka, Alaska, where she taught high school. In 1976, she transferred to a high school on the Navajo reservation near Gallup, N.M., where she moved into school administration as a principal for language arts.
Warner spent 18 years working for the Bureau of Indian Affairs on federal reserve land in Alaska, New Mexico, Kansas and Arizona.
After her federal career, she taught at KU and had various positions at other universities, such as a research faculty member at the University of Missouri and director of the American Indian leadership program at Pennsylvania State University.
She said the moves she made were to better her career.
"It's a function of having a career, because these moves in some respects were because I was building a professional career. When I moved from Sitka - which I loved Sitka, Alaska, and I wished I could have stayed there forever - it was to a promotion all in the same system. So, it's almost like being in the military."
However, she plans to make Haskell her final stop.
"This is sort of a final career move for someone because of my age," Warner said. "It's not like I want to go anywhere else - this is where I want to go.
"In Indian country, everybody knows about Haskell, and it's just an amazing opportunity."
Xavier Barraza, of Hopland, Calif., and vice president of the Student Senate at Haskell, is happy to have Warner as a leader. He said she had a strong background in public policy that would be beneficial to the university. He also thought she would be more involved with student leadership.
Warner replaces Karen Swisher, who retired Dec. 31 after seven years as president.
Copyright 2018 The Lawrence Journal-World. All rights reserved. This material may not be published, broadcast, rewritten or redistributed. We strive to uphold our values for every story published.