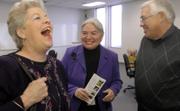 Haskell Indian Nations University is abuzz about its new president.
"Strong leader," "educator" and "decision-maker" were among words faculty, students and retirees used to describe Linda Warner, who was welcomed during a public reception Thursday at the university.
Warner, a member of the Comanche Nation, was named to the position March 8, but arrived on campus last week. She replaces Karen Swisher, who retired Dec. 31 after seven years as president. Before arriving at Haskell, Warner was associate vice chancellor for academic affairs with the Tennessee Board of Regents.
Manny King, registrar at Haskell, said Warner has a lot of experience and will bring positive change to the university.
"She is a vision seeker, and we will enjoy following her," he said.
Jerry Tuckwin, who retired as Haskell's athletic director in 2001, described Warner as a breath of fresh air.
"She will be able to give a lot of direction," he said. "She will bring a higher level of expectations for students and faculty."
Tuckwin worked with Warner when she was director of admissions at Haskell from 1981 to 1986. She also was a Kansas University faculty member from 1990 to 1993, when she also taught a course at Haskell.
Warner said it was nice to see familiar faces as well as new ones. Among the nearly 70 people attending was KU Chancellor Robert Hemenway, whom Warner met for the first time. While talking, they realized he was dean of arts and sciences at Oklahoma University while she was working on her doctorate.
"KU has a lot of close ties with Haskell, and we have shared joint grants," Hemenway said. "I look forward to being very close partners in the future."
Copyright 2018 The Lawrence Journal-World. All rights reserved. This material may not be published, broadcast, rewritten or redistributed. We strive to uphold our values for every story published.