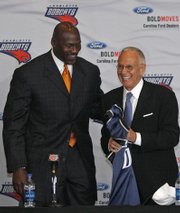 Charlotte, N.C. — Larry Brown wanted to resurrect his vagabond, Hall of Fame coaching career. Michael Jordan needed a veteran teacher and a big hire to rescue his sinking reputation as an NBA executive.
The two former North Carolina players teamed up Tuesday when Jordan introduced Brown as coach of the Charlotte Bobcats - his ninth NBA coaching job. Brown agreed to a four-year contract, returning to the state where his nomadic coaching journey began.
"How are you going to say no to Michael?" Brown said. "I've known him a long time. The things he stands for have made our game better. There's no way I could say no to him. It was a pretty easy decision once my wife said yes."
The 67-year-old Brown replaces Sam Vincent, whom Jordan hired last year despite no NBA head-coaching experience. Vincent, who was fired Saturday, struggled to find consistent rotations and clashed with players in a 32-50 season.
Brown's nine NBA teams are three more than any other coach - Kevin Loughery and Lenny Wilkens each coached six.
"I think I've coached almost everybody in the NBA, but I'm going to challenge everybody to do their best," Brown said. "That's what Michael is about, and that's what I'm about."
The Bobcats are in their fourth year, and Brown gives the struggling franchise instant credibility. He's one of only five NBA coaches with more than 1,000 victories and the only coach to lead teams to NBA and NCAA titles.
While Brown took UCLA to the Final Four and won an NCAA title with Kansas University, most of his experience has been in the NBA. Brown improved teams in Denver, San Antonio, Indiana and Philadelphia and won an NBA title with the Detroit Pistons in 2004.
Copyright 2018 The Lawrence Journal-World. All rights reserved. This material may not be published, broadcast, rewritten or redistributed. We strive to uphold our values for every story published.