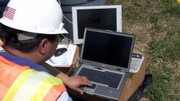 Once a Kansas University research team has completed its work, no longer will you have to wonder how much faster a construction project could be done if workers didn't take so many darn coffee breaks.
You'll know exactly how much faster.
Assistant professors Yong Bai and Luke Huan and graduate students Seong Hoon Kim, Yue Li and Abhinav Peddi are nearing the completion of a two-year study to record and evaluate construction project efficiency. They're using the reconstruction of the Iowa Street bridge over the Kansas Turnpike to develop and test their system.
"The results of this project can provide many benefits to a bridge owner, like the Kansas Turnpike Authority, because they know with this knowledge, their project will be completed quickly, save them money and also mitigate the inconvenience to the traveling public," said Bai, a civil engineering professor.
Several days each week, Kim and Li head out to the construction site for 12-hour stints recording and logging the movements of workers. Not only do they record how the workers do their jobs, but they also note whether a shortage of materials or inefficient processes may be slowing down the job.
Eventually, their video and data will be converted into models that show how employees work and how construction projects come together. In addition to recording the more mundane worker efficiencies, the research team hopes the cameras will be able to show when a worker is doing the job in a way that could cause injury.
A $100,000 grant from KU's Transportation Research Institute, the Kansas Department of Transportation, the Federal Highway Administration and the National Science Foundation is helping fund the research.
"The manager can monitor the sites remotely and also see what knowledge he can gain from our analyses," Huan said.
Indeed, because the cameras can be tied easily to the Internet, it would be possible for one manager to monitor workers at multiple job sites without ever leaving his office. Users also would be able to use the program to instantly find out individual worker productivity as well as overall project productivity.
That's just one of the clear commercial applications for this technology once it is thoroughly developed by the researchers.
"Every year we have bridges damaged that need to be repaired or replaced quickly," Bai said. "Sometimes the problem is man-made. Sometimes it's a natural disaster."
Either way, the researchers hope to reduce the amount of time drivers spend dodging orange construction barrels or following detour signs.
Copyright 2018 The Lawrence Journal-World. All rights reserved. This material may not be published, broadcast, rewritten or redistributed. We strive to uphold our values for every story published.