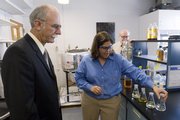 Kansas University long has been known for pumping out powerhouses in petroleum and transportation-related engineering.
Now the school is driving to add alternative fuels - made from harvested grains, agricultural castoffs and even grease from the kitchen at Mrs. E's cafeteria on campus - to its long list of accomplishments.
Dennis Lane, professor of civil engineering, is among those helping navigate efforts to get the School of Engineering in front of the competition.
"I think we'll have a lot of fun," said Lane, who has brought in a Volkswagen Jetta diesel to test the performance of a variety of alternative fuels. "And people on the street may actually benefit a great deal from it."
Lane, associate director for research operations and education at the KU Transportation Research Institute, isn't alone in his pursuit of knowledge and innovation in the world of alternative fuels, what has become an accelerating market as rising crude oil prices and ongoing demand for gasoline put pressure on academics, industries and consumers alike.
The push has prompted establishment of the KU Biodiesel Initiative, an integrated approach to the issue. Students work with faculty and researchers to examine all aspects of alternative fuels - some call it a feedstock-to-tailpipe approach - in seeking ways to cut the world's dependence on fossil fuels, reduce pollution and generate a potential for economic gains.
Susan Williams, associate professor of chemical and petroleum engineering, knows that KU is out front in the effort.
"We have to look at alternatives for petroleum-based fuel, and even to ethanol," said Williams, who has demonstrated KU's efforts for visitors, including Kansas Secretary of Agriculture Adrian Polansky. "We're looking at everything, from growing the plant that makes the oil all the way through to the production of the biodiesel, to using it in an engine, to testing the emissions and impact on the environment."
She's also looking at the potential for using discarded materials - such as that grease from Mrs. E's - into viable alternative fuels. The converted grease already has been used to power Lane's research-driven Jetta, plus a John Deere tractor and an aircraft engine, all in search of ways to boost efficiency and reduce costs.
Cost, she said, "drives everything" when it comes to public acceptance of a new fuel option.
"If you could bring the cost of biodiesel down so that it is competitive, then you could really drive the market," she said.
The idea behind using waste oils is simple, she said: While using refined oils - such as canola oil - produces a good fuel, the cost is relatively high, given that the oil already has gone through a relatively expensive process.
Waste oils, meanwhile, need to be disposed of, anyway. And there's plenty of it out there, a latent potential for reuse in fuel tanks everywhere.
The KU effort with castoffs from Mrs. E's already are getting refined into a limited amount of fuel. But someday that grease and other wastes could end up being put back into the tanks of the campus' bus fleet.
"We've closed the loop," Williams said. "We don't have to pay to ship that grease off anywhere and have anything done to it. We have our own students on campus working in chemistry, physics, engineering and even the business aspect of it."
Copyright 2018 The Lawrence Journal-World. All rights reserved. This material may not be published, broadcast, rewritten or redistributed. We strive to uphold our values for every story published.