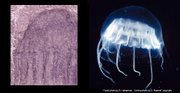 A fossil find in the deserts of Utah has provided remarkable clues to Kansas University researchers regarding the history of one aquatic creature.
Working together, researchers at the University of Utah and KU have determined that a fossil from more than 500 million years ago is of an ancient jellyfish - one that looks strikingly similar to the jellyfish of modern times.
Because, historically, fossils of jellyfish have been rare, these fossils are the first indication that the diversity of modern jellyfish species - numbering nearly 2,000 - began 500 million years ago, long before what was originally thought.
"It's rare to get good fossils of jellyfish," said Paulyn Cartwright, an assistant professor of biology and a key researcher on the project. "What's even more rare, though, is to get jellyfish fossils with this much detail, like the tentacles."
The results of the fossil study are being published today in PLoS ONE, an online peer-reviewed journal by the Public Library of Science.
Because of the detail in the fossils, researchers were able to determine that the variations in jellyfish species occurred hundreds of millions of years earlier than could previously be proven. These fossils are about 200 million years older than previous, less complete fossils.
"The fossil record is biased against soft-bodied life forms such as jellyfish because they leave little behind when they die," researcher Bruce Lieberman, a KU professor of geology, said in a statement. "That means that we are still working to solve the evolutionary development of many soft-bodied animals."
In this case, the extra detail was available because of the unusual sediment where the fossils were preserved.
The fossils are being studied at KU, Cartwright said, because of the university's combination of experts in biology and paleontology and its expertise in fossils. Cartwright studies modern jellyfish, while Lieberman focuses on the fossils of soft-bodied organisms.
Once the KU researchers have concluded their studies, the fossils will be packed up and sent back to the natural history museum at the University of Utah, where the researchers who found the fossils are based.
Copyright 2018 The Lawrence Journal-World. All rights reserved. This material may not be published, broadcast, rewritten or redistributed. We strive to uphold our values for every story published.