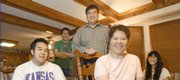 In the past five years, tuition at Kansas University has doubled. It's gone up far faster than inflation, income and even the housing market. The LJWorld takes you beyond the numbers as it looks at the students and parents who have to pay for school and the professors that are made possible through the increases.
A Kansas University provost's advisory committee has recommended a 6 percent increase in tuition rates for next year, according to the minutes of a recent Faculty Senate meeting.
The advisory committee recommendation is one piece of a series of events that culminates in June with the Board of Regents approving tuition plans for all six state universities.
"It's part of the process," KU spokeswoman Lynn Bretz said. "Our tuition proposal is not finalized. The provost and chancellor will present the final proposal to the regents in May."
Before finalizing a recommendation, Provost Richard Lariviere and Chancellor Robert Hemenway will consult with the tuition committee and evaluate funding that likely will come from the state Legislature. Bretz said they'd also review data from peer institutions to see how KU's tuition rates compare.
Lariviere and Hemenway will have to balance the needs of the university against a desire by the regents to see tuition increases as low as possible. Though they declined to cap tuition increases, in February the regents left university leaders with the impression they would not look favorably on tuition increases higher than 6 percent.
At that time, Hemenway told the Journal-World he fully expected KU to present a tuition increase below 6 percent. Of course, those who are freshmen this year will see no tuition increase because their tuition level was frozen for four years.
Transfer students, as well as students who were sophomores, juniors or seniors, will be subject to the university's standard tuition rate. KU also will have to set a new guaranteed tuition rate for next year's incoming freshmen.
The regents meet May 14 and 15 and are expected to hear tuition proposals on May 15.
Copyright 2018 The Lawrence Journal-World. All rights reserved. This material may not be published, broadcast, rewritten or redistributed. We strive to uphold our values for every story published.