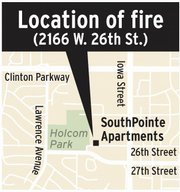 Lawrence-Douglas County Fire & Medical is investigating a fire that broke out Tuesday morning at SouthPointe Apartments, 2166 W. 26th St.
The two-alarm fire, which was called in at 7:06 a.m., was declared under control at 7:54 a.m. No injuries to firefighters or residents of the apartment complex were reported.
The fire was contained to one apartment in the C building. Firefighters estimated damage from the blaze at $2,000 and said the cause of the fire remains under investigation.
Copyright 2018 The Lawrence Journal-World. All rights reserved. This material may not be published, broadcast, rewritten or redistributed. We strive to uphold our values for every story published.